Superstars successor SuperTouringSeries delays new format to 2015
| | |
| --- | --- |
| | Tuesday, December 31st 2013, 14:19 GMT |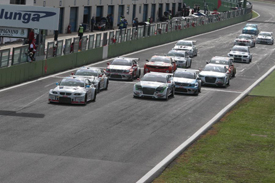 The rebranded SuperTouringSeries, formerly Superstars, has delayed the introduced of its new 'League of Teams' format until 2015.
The series had planned to launch the new initiative, which effectively makes the teams stakeholders in the championship, in 2014.
But despite attracting interest from leading outfits such as Triple Eight, Carlin and Fortec Motorsport, it feels there has been insufficient time to make the plan work effectively.
Daniel Audetto, the CEO of the new company running SuperTouringSeries, PARE said: "Given the tight schedule and the upcoming release of new models which will replace the current ones in the upper range of the market, the majority of the teams have confirmed the intention to participate in the championship next season.
"Therefore, the start of the 'League' will be postponed to 2015."
PARE is examining whether it is feasible to run the championship in 2014 without the league format.
It is in discussion with the teams to assess how many cars it could expect on the grid.