AUTOSPORT Awards 2013: John Surtees receives Gregor Grant Award
| | |
| --- | --- |
| By Sam Tremayne | Sunday, December 1st 2013, 22:35 GMT |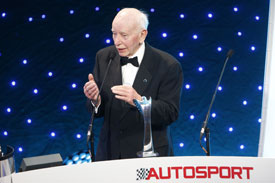 John Surtees has been honoured with a Gregor Grant Award in recognition of his achievements in motorsport at this year's AUTOSPORT Awards in London.
Surtees remains the only man to have ever won world championships on two and four wheels.
He won multiple 500cc motorbike titles between 1956 and 1960 and then graduated into Formula 1 with Team Lotus.
In 1963 he sealed a move to Ferrari, with whom he would triumph one year later to take a historic, and to date unprecedented, double.
After further team switches, Surtees set up and drove for his own eponymous outfit in 1970.
He retired from competition two years later, but remained involved in single-seater racing and as recently as 2007 was chairman of Great Britain's A1GP team.
Alongside myriad honours for his riding and driving achievements, Surtees was appointed a Member and then Officer of the Order of the British Empire (OBE) in 2006.
Surtees was presented with his award by three-time IndyCar champion Dario Franchitti, who announced his immediate retirement from racing on medical advice last month.
"The most important race of my life was a bike race down in Wales," Surtees said.
"I built this bike up in the bike shed, but on that weekend I was no longer a mechanic testing that bike, I came together with it.
"It talked to me, and I created that relationship with machinery that set the stage for the rest of my life - that moment and that feel is very, very special."
Surtees won his first world crown at the age of 22, beating Walter Zeller to the 1956 500cc title while riding for MV Augusta.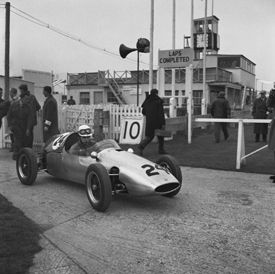 He triumphed for MV Augusta again in 1958, '59 and '60, racing up a total of 18 500cc wins from 20 races across the three seasons.
He had also tested cars for Vanwall and Aston Martin in that period, and in 1960 - at the age of 26 - he switched full-time into cars.
In March that year he finished a close second to Jim Clark in a Formula Junior race at Goodwood (pictured). Within months he was competing in Formula 1.
His first race was in May, driving for Team Lotus at Monaco; his second, on home soil at Silverstone, yielded a first grand prix podium, with Surtees second behind Jack Brabham. In his third race that season, at Porto, he also captured his first grand prix pole.
Surtees elected to move to Yeoman and then Bowmaker in '61 and '62 respectively - the latter season yielded two podiums - before switching to Ferrari in 1963.
That move led to his breakthrough grand prix win from second on the grid at the Nurburgring, and also set up his title-winning campaign one year later.
Surtees won twice and took six podiums over the course of 1964, with a second place in the Mexico City finale helping him to jump Graham Hill and seal the title by a single point.
After three podiums in the following season, Surtees - spurred on by politicking and internal strife at Ferrari - switched to Cooper in 1966. He won twice and took two podiums for the British squad, finishing runner-up in the championship despite also being beset by numerous technical gremlins.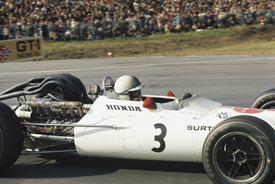 Surtees would win once more in F1 - for Honda in 1967 - before forming his own outfit in 1970 and scoring two top-six finishes in its inaugural F1 campaign.
Two years later he claimed an emotional Formula 2 victory for the Surtees squad his final year of competition. Mike Hailwood won the F2 championship with Team Surtees that year.
The squad continued to run, with varied results, until 1978, but even after its demise Surtees continued to be involved in motorsport and from 2005-07 chaired the British effort in A1GP.
He also supported son Henry's progression through karting and into the junior single-seater ranks. Following Henry's tragic death in an F2 race, Surtees established the Henry Surtees Foundation and has worked tirelessly to help raise money for brain injury charity Headway.