Jimmie Johnson deserved sixth NASCAR title sooner says crew chief
| | |
| --- | --- |
| By Matt Beer | Monday, November 18th 2013, 13:54 GMT |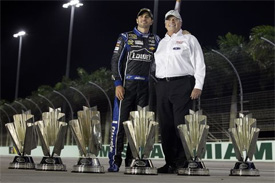 Jimmie Johnson's crew chief Chad Knaus believes the Hendrick man's sixth NASCAR Sprint Cup would have come sooner had the team not been 'crippled' by the regulations in 2012.
Johnson wrapped up his first crown since 2010 with ninth place at Homestead on Sunday.
A year earlier he had been beaten to the title by Brad Keselowski in a final-round showdown.
Knaus reckons the sixth title would have come a year sooner but for what NASCAR described as a "reconfirmation" of rear axle rules just prior to last season's Chase.
"We didn't change a whole lot [for 2013]," said Knaus.
"I feel like last year we had the best team. Unfortunately midway through the season there were some problems and changes, rules changes, and so on and so forth that took a lot of speed from Hendrick Motorsports to cripple us.
"Otherwise I think we would have waxed the competition. I don't think it would have been close. Unfortunately that happened."
Although Johnson only needed to finish 23rd at Homestead to defeat 2013 rivals Matt Kenseth and Kevin Harvick, team boss Rick Hendrick said he had been nervous right up to the finish.
"Matt had a heck of a year, an unbelievable year," Hendrick said.
"They were putting pressure on us. We were back and forth.
"We got to Phoenix and on the first lap I thought we were going to wreck. Then when Harvick made the three-wide move, I thought Jimmie had lost it again. He saved the car.
"I didn't want to get excited about the championship until we could see the chequered flag. I thought on the restart where we got the fender tore up, it could be a big problem."
But Johnson said he had been calmer about Sunday's race than his previous title deciders.
"Of all the championship opportunities I've had, this truly was the most calm and normal weekend that I've ever had in the racecar," he said.
"With 74 to go, everything hit the fan out there on the frontstretch and it got serious. I'm not going to lie. Up until then, it was the most calm and relaxed environment I've ever had down here."