Macau F3: Kevin Korjus edges Tom Blomqvist in second practice
| | |
| --- | --- |
| By Marcus Simmons | Friday, November 15th 2013, 04:31 GMT |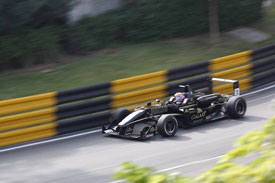 Kevin Korjus threw his hat into the ring as a contender for the Macau Grand Prix by going fastest in Friday's free practice session.
The Estonian put in a lap that would have put him second in Thursday's qualifying session with his Double R Racing Dallara-Mercedes.
Korjus was one of several drivers not to use new tyres in Thursday qualifying, and therefore was able to use two new Yokohamas in free practice to get an idea of grip for afternoon qualifying.
"We made a few adjustments from yesterday and put new tyres on the left," said the GP3 ace.
"I think that made a little bit of difference, but qualifying will be hard - the field is so closely matched this morning."
Tom Blomqvist stayed on the same set with which he completed all of Thursday's running to go second fastest, just 0.063 seconds behind Korjus, in the same Fortec Motorsport Dallara-Mercedes qualified on pole last year by Alex Lynn.
Carlin's drivers also stayed on old rubber, with Jazeman Jaafar and Harry Tincknell heading the squad's sextet of Dallara-Volkswagens in third and fourth respectively.
Thursday morning pacesetter Lynn was fifth in his Prema Powerteam Dallara-Mercedes, followed by two more Carlin runners, Carlos Sainz Jr and Antonio Felix da Costa.
Both overnight front-row men, Felix Rosenqvist (11th) and da Costa, appeared to use the session more to trial set-ups for later in the weekend.
Three more UK drivers - Alexander Sims, Will Buller and Jordan King - completed the top 10.
King was one of three drivers to crash at the tight Police bend during the session, although his was the lightest impact and he was able to rejoin after replacing the front wing.
Lucas Auer's impact was considerably heavier, swiping the left side of his Prema car against the barriers and causing a red flag.
Stefano Coletti later had an even bigger impact, although his car was craned away - with the Monegasque still aboard - under yellow flags.
Other drivers not to complete the session included European champion Raffaele Marciello, who went straight on at the Melco hairpin and felt it was too unsafe to reverse back out, Katsumasa Chiyo (who returned with a deranged left-front corner) and Dennis van de Laar.
Pos Driver                  Team/Car                        Time        Gap  
 1. Kevin Korjus            Double R Dallara-Merc           2m12.817s
 2. Tom Blomqvist           Fortec Dallara-Merc             2m12.880s  +0.063s
 3. Jazeman Jaafar          Carlin Dallara-VW               2m13.021s  +0.204s
 4. Harry Tincknell         Carlin Dallara-VW               2m13.024s  +0.207s
 5. Alex Lynn               Prema Dallara-Merc              2m13.096s  +0.279s
 6. Carlos Sainz Jr         Carlin Dallara-VW               2m13.111s  +0.294s
 7. Antonio Felix da Costa  Carlin Dallara-VW               2m13.117s  +0.300s
 8. Alexander Sims          T-Sport Dallara-Nissan          2m13.339s  +0.522s
 9. Will Buller             Fortec Dallara-Merc             2m13.382s  +0.565s
10. Jordan King             Carlin Dallara-VW               2m13.453s  +0.636s
11. Felix Rosenqvist        Mucke Dallara-Merc              2m13.471s  +0.654s
12. Pipo Derani             Fortec Dallara-Merc             2m13.498s  +0.681s
13. Raffaele Marciello      Prema Dallara-Merc              2m13.577s  +0.760s
14. Stefano Coletti         Eurointernational Dallara-Merc  2m13.944s  +1.127s
15. Yuhi Sekiguchi          Mucke Dallara-Merc              2m14.084s  +1.267s
16. Antonio Giovinazzi      Double R Dallara-Merc           2m14.296s  +1.479s
17. Esteban Ocon            Prema Dallara-Merc              2m14.678s  +1.861s
18. Nicholas Latifi         Carlin Dallara-VW               2m14.926s  +2.109s
19. Lucas Auer              Prema Dallara-Merc              2m14.936s  +2.119s
20. John Bryant-Meisner     Fortec Dallara-Merc             2m15.215s  +2.398s
21. Ed Jones                Fortec Dallara-Merc             2m15.239s  +2.422s
22. Lucas Wolf              URD Dallara-Mercedes            2m15.418s  +2.601s
23. Sean Gelael             Double R Dallara-Merc           2m15.858s  +3.041s
24. Katsumasa Chiyo         B-Max Dallara-Toyota            2m15.860s  +3.043s
25. Dennis van de Laar      Mucke Dallara-Merc              2m16.020s  +3.203s
26. Yuichi Nakayama         TOM'S Dallara-Toyota            2m16.035s  +3.218s
27. Nelson Mason            Zeller Dallara-Merc             2m16.076s  +3.259s
28. Sun Zheng               Double R Dallara-Merc           2m19.390s  +6.573s