Macau WTCC: Yvan Muller blitzes first practice
| | |
| --- | --- |
| By Sam Tremayne | Friday, November 15th 2013, 01:06 GMT |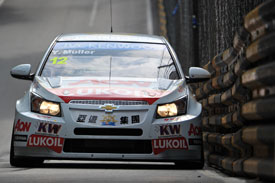 Yvan Muller blitzed the first World Touring Car Championship practice on the streets of Macau, finishing nearly three quarters of a second clear of the rest of the field.
The fight for top spot had been a close run affair over the opening 15 minutes, with Muller, Pepe Oriola, Tom Chilton and then Rob Huff all enjoying spells out front as times steadily improved.
Muller ended that dynamic in emphatic style however as he set a 2m31.121s that blew his rivals out of the water.
Oriola twice threatened a response when he ducked under Muller's sector one split, only to lose swathes of time through the intricate middle sector.
He did at least improve marginally to secure second, and finish as the only man to get within 0.75s of the four-time champion.
Huff, who had languished down in 31st before his first flyer moved him to the top of the timesheets, ended the session third.
That put him narrowly ahead of the first works Honda of Tiago Monteiro and Muller's team-mate Tom Chilton, with the trio covered by just over one tenth of a second.
James Thompson put his Lada sixth, just edging out Gabriele Tarquini in the second factory Civic.
Stefano D'Aste finished as top BMW in eighth, but was almost eight tenths of a second down on Tarquini. Marc Basseng and Tom Coronel rounded out the top 10.
As was the case in Thursday's pre-weekend test the session was punctuated by several crashes, the heaviest coming when Ng Kin Veng lost his China Dragon Chevrolet at Police and speared into the barriers.
Campos newboy Konstantins Calko locked up right behind and hit the side of Veng's Cruze, damaging his SEAT - although he then optimistically continued for a further two laps before pitting under the encouragement of the black and orange flags.
Eurico de Jesus later went off at Maternity, but was able to rejoin without damage, while Norbert Michelisz and Tarquini came together at Lisboa with seven minutes to run.
The Zengo Honda man had not set a competitive time at that point, but managed to salvage something from the session by continuing - rear bodywork missing - and moving into 13th at the flag, albeit some 2.7s off the outright pace.
Pos  Driver              Team/Car                Time        Gap
 1.  Yvan Muller         RML Chevrolet           2m31.121s
 2.  Pepe Oriola         Tuenti Chevrolet        2m31.838s   +0.717s
 3.  Rob Huff            Munnich SEAT            2m31.920s   +0.799s
 4.  Tiago Monteiro      Honda                   2m31.937s   +0.816s
 5.  Tom Chilton         RML Chevrolet           2m32.069s   +0.948s
 6.  James Thompson      Lada                    2m32.174s   +1.053s
 7.  Gabriele Tarquini   Honda                   2m32.384s   +1.263s
 8.  Stefano D'Aste      PB BMW                  2m33.158s   +2.037s
 9.  Marc Basseng        Munnich SEAT            2m33.233s   +2.112s
10.  Tom Coronel         ROAL BMW                2m33.415s   +2.294s
11.  Mehdi Bennani       Proteam BMW             2m33.488s   +2.367s
12.  Alex MacDowall      Bamboo Chevrolet        2m33.811s   +2.690s
13.  Norbert Michelisz   Zengo Honda             2m33.867s   +2.746s
14.  Hugo Valente        Campos SEAT             2m33.940s   +2.819s
15.  Tom Boardman        Special Tuning SEAT     2m34.045s   +2.924s
16.  Charles Ng          Engstler BMW            2m34.208s   +3.087s
17.  Darryl O'Young      ROAL BMW                2m34.572s   +3.451s
18.  James Nash          Bamboo Chevrolet        2m34.652s   +3.531s
19.  Freddy Barth        Wiechers BMW            2m36.218s   +5.097s
20.  Mikhail Kozlovskiy  Lada                    2m37.244s   +6.123s
21.  Franz Engstler      Engstler BMW            2m37.306s   +6.185s
22.  Michael Soong       Campos SEAT             2m38.261s   +7.140s
23.  Filipe de Souza     China Dragon Chevrolet  2m38.512s   +7.391s
24.  Rene Munnich        Munnich SEAT            2m38.524s   +7.403s
25.  Henry Ho            Engstler BMW            2m38.867s   +7.746s
26.  Konstantins Calko   Campos SEAT             2m42.251s  +11.130s
27.  Kin Veng Ng         China Dragon Chevrolet  2m42.840s  +11.719s
28.  Jeronimo Badaraco   Son Veng Chevrolet      2m43.125s  +12.004s
29.  Joseph Rosa-Merszei Engstler BMW            2m43.515s  +12.394s
30.  Ka Lok Mak          RPM BMW                 2m43.560s  +12.439s
31.  Celio Alves Dias    China Dragon Chevrolet  2m43.803s  +12.682s
32.  Eurico De Jesus     PAS Macau Honda         2m44.553s  +13.432s
33.  Yukinori Taniguchi  Nika Chevrolet          2m47.280s  +16.159s
34.  Lam Kam San         China Dragon Chevrolet  2m48.762s  +17.641s