Motor racing world hails Dario Franchitti as he is forced to retire
| | |
| --- | --- |
| By Mark Glendenning | Thursday, November 14th 2013, 22:58 GMT |
The motorsport fraternity has begun to pay tribute to the career of four-time IndyCar champion and three-time Indianapolis 500 winner Dario Franchitti following the Scot's enforced retirement from racing.
Franchitti announced on Thursday that he was stepping out of the cockpit on medical advice after suffering multiple injuries in a crash in Houston last month.
The news was quickly followed by salutes to the 40-year-old's achievements.
INDYCAR SERIES
"As a four-time IndyCar Series champion and a three-time Indianapolis 500 winner, Dario Franchitti has etched his name among the greats of this sport, and his legacy will continue to influence future generations of competitors.
"His passion was born, in part, from a deep love for the sport and a reverence to its history, and Dario carries that heritage everywhere he travels and shares it with everyone he meets. Dario's leadership on and off the track has helped shape IndyCar, and we look forward to him remaining involved in the sport he loves."
DOUG BOLES, PRESIDENT, INDIANAPOLIS MOTOR SPEEDWAY
"In over 100 years of racing at the Indianapolis Motor Speedway, Dario Franchitti stands in very exclusive company as just one of only 10 drivers to win the Indianapolis 500 three or more times.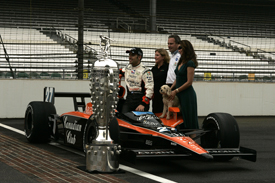 "Dario's competitive drive, coupled with his passion for and appreciation of the history of the Indianapolis 500 made him a fan favourite at the Indianapolis Motor Speedway.
"But it is his willingness to invest time to promote our sport outside of the car, to mentor young drivers aspiring to drive at Indianapolis, and to interact with our fans that make him one of the all-time great champions and ambassadors of the Indianapolis 500.
"We will miss him competing every May, but we look forward to celebrating his accomplishments in the Indianapolis 500 for years to come."
ANDRETTI AUTOSPORT
"We are saddened to hear about the retirement of Dario Franchitti. Over the years he has become more than a former driver, he is truly a great friend and will forever be a part of the Andretti racing family. Dario captured his first championship and Indy 500 victory with us, and the team's strong history is much to Dario's credit.
"We'd like to congratulate him on a successful career and wish him the best as he transitions into the next stage of his life. We have no doubt that he will continue to make a great impact on the sport of racing, albeit from behind the pit wall."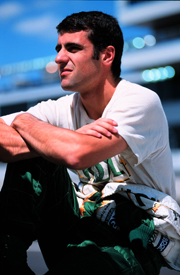 JENSON BUTTON (McLaren F1 driver)
"Dario was one of the drivers who you used to look up to as a youngster. I remember being at the AUTOSPORT show when I was really young and would try to go on the arcade machines to try to get the best time.
"I thought I was really good - and I was pretty good to be fair - and I finished and Dario jumped on and beat my time on his first time on this arcade machine. And I thought wow - he is super human!! And I still think he is as a human being.
"I think he is a proper legend of the sport and he has achieved so much, but also carries himself so well. He is such a nice person, lovely guy, and it is a shame that he is retiring. He is still very young at heart but he is probably doing the right thing after such a huge shunt. Sad to see him go, but I am sure he is still going to be around the sport."
The formal statements were accompanied by a broader outpouring on social media channels such as Twitter. The first came from Franchitti himself, in what is so far his only comment on his retirement beyond the initial announcement: "A sad day, but I'm eternally grateful..."
A selection of others:
Scott Dixon (IndyCar Series champion, Franchitti's team-mate at Ganassi)
@scottdixon9: @dariofranchitti gutted. Amazing teammate and a legend in sport. Stoked to say your a BFF :) luv ya pal
Mike Hull (Chip Ganassi Racing managing director)
@IndyMHull: As a teammate @dariofranchitti; represents what's right about Motorsports w/ unselfish integrity of a great Champion - it sets him apart.
Ryan Hunter-Reay (2012 IndyCar champion)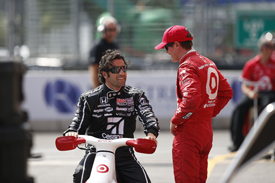 @RyanHunterReay: Can't believe the news @dariofranchitti You're one of the very best @indycar drivers in history. Feel lucky to have shared the track w/you
Will Power (Team Penske IndyCar driver)
@12WillPower: Very sad news to hear that @dariofranchitti will not be back next year... will go down as one of the all time greats in racing and @IndyCar
Andretti Autosport
@FollowAndretti We wish you the best, @DarioFranchitti. You'll always be part of the Andretti racing family.
Helio Castroneves (Team Penske IndyCar driver; three-time Indy 500 winner)
@h3lio @dariofranchitti no way!! I'm honor to share the track and race with u my friend!
Tony Kanaan (Ganassi IndyCar driver; 2013 Indy 500 winner; 2004 IndyCar champion)
@TonyKanaan Sad day with @dariofranchitti news but most importantly, he is my friend, and as much as it hurts not seeing him compete again, I'm very happy that he got out of that accident and is still here with us.
Michael Andretti (Franchitti's former rival and team boss)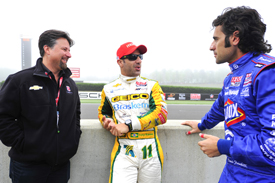 @michaelandretti @dariofranchitti sorry to hear about ur forced retirement! You have so much to be proud of and I am proud to call u my friend!
Jimmie Johnson (Five-time NASCAR Sprint Cup champion)
@JimmieJohnson Thinking of my friend @dariofranchitti. #Legend
Allan McNish (Three-time Le Mans winner, 2013 World Endurance champion)
@AllanMcNish What a career Dario, 3 wins at the Indy 500 and 4 Indycar championships are simply legendary, Scotland is proud of you.
Tristan Vautier (2013 IndyCar rookie of the year)
@Tristan Vautier Thanks @dariofranchitti for being such an inspiration. Incredibly lucky to have raced against you, congrats on all you achieved Champ.