IndyCar owners sign new executives for motorsport division
| | |
| --- | --- |
| By Mark Glendenning | Thursday, November 7th 2013, 17:42 GMT |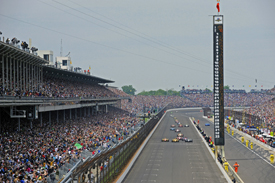 Hulman and Co CEO Mark Miles has completed the formation of the leadership team that will steer the company's motorsport division, which includes the IndyCar Series and Indianapolis Motor Speedway.
Former Ford marketing executive CJ O'Donnell has been named as Hulman Motorsports' chief marketing officer, while Jay Frye, whose motorsport experience includes setting up the Red Bull NASCAR team, will serve as chief revenue officer.
"We've set a new strategic direction for our motorsports entities, and Jay and C.J. are both top performers who will help us take big leaps forward," Miles said.
"Among their immediate goals are to add sponsors for INDYCAR and IMS, improve our level of fan engagement and develop strategies to build alignment among our teams, drivers, venues and sponsors.
"Our team is in place, and there's no offseason as we prepare for 2014."
O'Donnell, who will oversee a combined IndyCar and IMS marketing and communications department, most recently served as Ford's group marketing manager for electrical vehicles.
His 20-year career with the company also included roles with the Jaguar, Lincoln and Mazda brands, and he said that his initial priority was to consolidate IndyCar and IMS' identities.
"Initially, I'll focus my energy on a common brand and clear message for our fans," he said. "This will include working together with our key stakeholders and ensuring marketing alignment among teams, drivers, sponsors and venues."
Frye was the Red Bull team's general manager between 2008 and 2011, and prior to that spent 12 years leading Sprint Cup team MB2 Motorsports.
"INDYCAR's value proposition for sponsors is second to none as it provides fans with a great racing product, and with IMS, we have incredible history and tradition," Frye said.
"For our teams and fans, we will work hard to bring sponsor/partners into the sport that will enhance the overall fan experience. It's an exciting opportunity, and I look forward to being a part of the team."
Like O'Donnell, Frye will oversee a combined IndyCar/IMS team responsible for sponsorship sales, licensing and account services.