Shanghai WTCC: Yvan Muller denies Thed Bjork in second practice
| | |
| --- | --- |
| By Sam Tremayne | Saturday, November 2nd 2013, 03:44 GMT |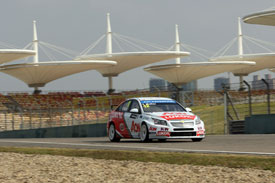 Yvan Muller denied Thed Bjork and Volvo a clean sweep of World Touring Car Championship practice sessions at Shanghai with a late surge in practice two.
The series' newly-crowned champion beat his Scandinavian counterpart by just over three tenths of a second, in the process setting the fastest time so far this weekend.
Bjork, who once again set his best time in the opening minutes, was able to hold onto second ahead of Chilton.
The Briton had led RML Chevrolet team-mate Muller out for the latter's flyer, and while the duo reversed roles in the final minutes neither was able to improve.
James Thompson continued his and Lada's strong start to the weekend by sealing fourth, just over half a second down the road from Muller.
Bamboo locked out fifth and sixth through Alex MacDowall and James Nash respectively, while Pepe Oriola just shaded Tiago Monteiro's Honda and Rob Huff's SEAT in the fight for seventh.
Gabriele Tarquini meanwhile stole into 10th at the flag, demoting a BMW trio of Stefano D'Aste, Tom Coronel and Franz Engstler in the process.
Engstler was the session's only spinner, losing his BMW at Turn 11, while Jeronimo Badaraco missed the second half of the session after coming to a halt on the outside of Turn 13.
Pos  Driver              Team/Car                Time       Gap
 1.  Yvan Muller         RML Chevrolet           1m55.508s
 2.  Thed Bjork          Polestar Volvo          1m55.848s  +0.340s
 3.  Tom Chilton         RML Chevrolet           1m55.910s  +0.402s
 4.  James Thompson      Lada                    1m56.069s  +0.561s
 5.  Alex MacDowall      Bamboo Chevrolet        1m56.109s  +0.601s
 6.  James Nash          Bamboo Chevrolet        1m56.196s  +0.688s
 7.  Pepe Oriola         Tuenti Chevrolet        1m56.204s  +0.696s
 8.  Tiago Monteiro      Honda                   1m56.261s  +0.753s
 9.  Rob Huff            Munnich SEAT            1m56.341s  +0.833s
10.  Gabriele Tarquini   Honda                   1m56.455s  +0.947s
11.  Stefano D'Aste      PB BMW                  1m56.479s  +0.971s
12.  Tom Coronel         ROAL BMW                1m56.527s  +1.019s
13.  Franz Engstler      Engstler BMW            1m56.574s  +1.066s
14.  Rene Munnich        Munnich SEAT            1m56.708s  +1.200s
15.  Rickard Rydell      Nika Chevrolet          1m56.847s  +1.339s
16.  Norbert Michelisz   Zengo Honda             1m56.946s  +1.438s
17.  Tom Boardman        Special Tuning SEAT     1m56.997s  +1.489s
18.  Hugo Valente        Campos SEAT             1m57.017s  +1.509s
19.  Marc Basseng        Munnich SEAT            1m57.036s  +1.528s
20.  Fernando Monje      Campos SEAT             1m57.345s  +1.837s
21.  Freddy Barth        Wiechers BMW            1m57.496s  +1.988s
22.  Darryl O'Young      ROAL BMW                1m57.533s  +2.025s
23.  Charles Ng          Engstler BMW            1m57.926s  +2.418s
24.  Mikhail Kozlovskiy  Lada                    1m57.950s  +2.442s
25.  Yukinori Taniguchi  Wiechers BMW            1m58.616s  +3.108s
26.  Filipe de Souza     China Dragon Chevrolet  1m59.732s  +4.224s
27.  Henry Ho            Engstler BMW            2m00.586s  +5.078s
28.  Kin Veng Ng         China Dragon Chevrolet  2m01.911s  +6.403s
29.  Ka Lok Mak          RPM BMW                 2m02.726s  +7.218s
30.  Jeronimo Badaraco   Son Veng Chevrolet      2m02.774s  +7.266s
31.  Mehdi Bennani       Proteam BMW             -