Shanghai WTCC: Thed Bjork puts Volvo on top in first practice
| | |
| --- | --- |
| By Sam Tremayne | Saturday, November 2nd 2013, 00:39 GMT |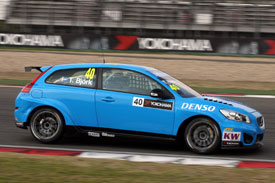 Thed Bjork handed Volvo the ideal start to its World Touring Car Championship return by topping the timesheets in first practice at Shanghai.
Bjork, who recently claimed this year's Scandinavian Touring Car crown, hit the front early on and was never displaced as the field largely focused on long runs over the 30-minute session.
His 1m55.323s effort left him more than six tenths clear of a chasing pack led by Honda's Gabriele Tarquini and Nika's Rickard Rydell, who like Bjork is making a one-off appearance in China.
Yvan Muller meanwhile edged out Suzuka race winner Norbert Michelisz in the fight for fourth, with Tom Coronel finishing as the top BMW, less than two hundredths of a second down the road.
The top six was effectively locked in after the opening five minutes, but there was at least movement down the order as Freddy Barth put his Wiechers BMW seventh minutes from the end.
That demoted the second factory Honda of Tiago Monteiro to eighth, and also bumped Lada's James Thompson and the RML Chevrolet of Tom Chilton to the fringes of the top 10.
Chilton was one of several drivers to have small moments when he ran slightly deep into Turn 15, moments before Michelisz saved a massive lock-up at the same corner.
Eurosport Asia Trophy competitor Ka Lok Mak was the session's only spinner, losing the rear of his Chevrolet exiting Turn 9.
Pepe Oriola meanwhile was a notable absentee on the timesheets, with the Spaniard completing just one exploratory lap due to power steering problems.
Pos  Driver              Team/Car                Time       Gap
 1.  Thed Bjork          Polestar Volvo          1m55.323s
 2.  Gabriele Tarquini   Honda                   1m55.934s  +0.611s
 3.  Rickard Rydell      Nika Chevrolet          1m55.977s  +0.654s
 4.  Yvan Muller         RML Chevrolet           1m56.075s  +0.752s
 5.  Norbert Michelisz   Zengo Honda             1m56.132s  +0.809s
 6.  Tom Coronel         ROAL BMW                1m56.150s  +0.827s
 7.  Freddy Barth        Wiechers BMW            1m56.178s  +0.855s
 8.  Tiago Monteiro      Honda                   1m56.231s  +0.908s
 9.  James Thompson      Lada                    1m56.544s  +1.221s
10.  Tom Chilton         RML Chevrolet           1m56.574s  +1.251s
11.  Rob Huff            Munnich SEAT            1m56.636s  +1.313s
12.  Alex MacDowall      Bamboo Chevrolet        1m56.763s  +1.440s
13.  Hugo Valente        Campos SEAT             1m56.821s  +1.498s
14.  Marc Basseng        Munnich SEAT            1m56.949s  +1.626s
15.  Franz Engstler      Engstler BMW            1m57.138s  +1.815s
16.  Stefano D'Aste      PB BMW                  1m57.161s  +1.838s
17.  James Nash          Bamboo Chevrolet        1m57.193s  +1.870s
18.  Mikhail Kozlovskiy  Lada                    1m57.231s  +1.908s
19.  Tom Boardman        Special Tuning SEAT     1m57.396s  +2.073s
20.  Darryl O'Young      ROAL BMW                1m57.669s  +2.346s
21.  Rene Munnich        Munnich SEAT            1m57.686s  +2.363s
22.  Fernando Monje      Campos SEAT             1m57.841s  +2.518s
23.  Mehdi Bennani       Proteam BMW             1m58.031s  +2.708s
24.  Yukinori Taniguchi  Wiechers BMW            1m58.092s  +2.769s
25.  Charles Ng          Engstler BMW            1m59.571s  +4.248s
26.  Filipe de Souza     China Dragon Chevrolet  1m59.583s  +4.260s
27.  Henry Ho            Engstler BMW            2m00.988s  +5.665s
28.  Kin Veng Ng         China Dragon Chevrolet  2m01.305s  +5.982s
29.  Jeronimo Badaraco   Son Veng Chevrolet      2m01.532s  +6.209s
30.  Ka Lok Mak          RPM BMW                 2m03.291s  +7.968s
31.  Pepe Oriola         Tuenti Chevrolet        -