Massa believes Vettel has matched Senna's, Schumacher's greatness
| | |
| --- | --- |
| By Edd Straw | Sunday, October 27th 2013, 13:49 GMT |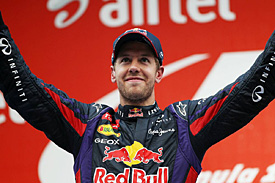 Felipe Massa believes Sebastian Vettel is now ranked at the same level as Ayrton Senna after racking up four consecutive world championships.
Vettel has joined Michael Schumacher, Juan Manuel Fangio and Alain Prost as the only drivers to have won four drivers' titles by winning the Indian Grand Prix.
Massa, who came within a point of winning the world championship in 2008, believes there is longer any doubt that the German is an all-time great.
"Today, he signed his name as one of the best Formula 1 drivers in history together with Senna, together with Schumacher, together with other drivers who are all the time at the top," said Massa.
"I'm very happy for him [as after] everything he did in his career he deserved it. He is a fantastic driver."
VETTEL IS FOUR-TIME CHAMPION

The key moments of Vettel's year

Opinion: Give Vettel the credit he is due

Zoom In: Vettel's road to a fourth title in pictures
Massa's Ferrari team-mate Fernando Alonso, who was the only driver who could have prevented Vettel clinching the title in the Indian GP, has congratulated his title rival.
He stressed that his focus is now on mounting a more serious challenge to the Red Bull ace next year.
"I congratulate Sebastian," said Alonso. "He's had a very, very strong season dominating especially the second part of the year with many wins, so well done to him and the team.
"Hopefully next year, we can make things a little bit more difficult than this year."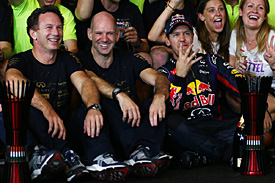 Alonso added that it is not possible to come up with a definitive answer as to how to rank the great drivers of F1 and that numbers alone only tell part of the story.
He believes it is up to individuals to decide who the greats of the sport are.
"Many people think Ayrton was the best in history, he had only three championships compared to people that had more," said Alonso.
"Some people think that Michael is the greatest if you look at the numbers he should be the best one because he has 91 victories and seven titles.
"This is nothing we can discuss, there will always be many different opinions and this is the good thing about the sport."