Petit Le Mans: Rebellion claims final ALMS win at Road Atlanta
| | |
| --- | --- |
| By Dan Cross | Sunday, October 20th 2013, 01:37 GMT |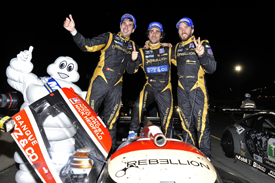 Rebellion entered the history books as the last-ever overall winner in the American Le Mans Series, as Nick Heidfeld, Neel Jani and Nicolas Prost won the 2013 Petit Le Mans.
The trio cruised to victory at Road Atlanta after erstwhile race leader Pickett Racing was forced to retire with an irreparable overheating issue shortly after mid-distance.
The Pickett HPD had a one-lap advantage over its Anglo-Swiss rival before Rebellion's misfortune, due in part to Jani serving a stop-go penalty after hitting the PR1 Mathiasen LMPC entry in the first hour.
With this year's LMP1 champions out of the picture, Rebellion was faultless in claiming its second consecutive Petit victory by a comfortable seven-lap margin.
The #551 Level 5 HPD finished second overall when it claimed LMP2 honours in the hands of Ryan Briscoe, Marino Franchitti and team owner Scott Tucker.
They were embroiled in a race-long duel with the #01 Extreme Speed HPD, the outcome of which was only decided in the final hour when series returnee David Brabham experienced a delayed final pit stop and fell to second in class.
The sister Level 5 car of Guy Cosmo and experienced HPD drivers Jonny Kane and Peter Dumbreck finished third in LMP2, a position they had maintained throughout the majority of the race.
BAR1 Motorsport took LMPC victory in its #8 entry after a determined drive by Kyle Marcelli, who finally found a way past ALMS debutant Oswaldo Negri with just over two hours left on the clock.
FALKEN RECOVERS TO GT TRIUMPH
Nicky Tandy, Wolf Henzler and Bryan Sellers took the GT spoils in what was an ultra-competitive field, and the class lead changed on almost lap-by-lap basis during the first-half of the race.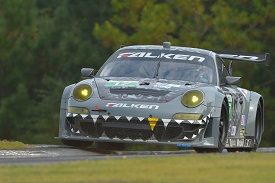 The order looked to have settled down seven hours in, with the Risi Ferrari squad enjoying a 15-second lead.
That was before Olivier Beretta tried to pass a GTC competitor around the outside of Turn 6, and too much momentum sent him careering into a wall.
He lost 25 seconds and a door mirror and was forced to pit for repairs, dropping him down to fourth in class as a result.
This promoted Tandy to first in class, a fantastic turnaround after he had fought just to stay on the lead lap at one point, but swift pitstops and timely caution periods allowed the Falken Porsche to rise up the order.
The Briton held his lead until the end, overcoming a brief headlight issue after darkness descended and fending off Dirk Muller in the #56 RLL BMW when racing resumed with 10 laps remaining after a late caution period.
The #45 Flying Lizards Porsche traded GTC class pole for victory after an intense three-car battle and it looked like Damien Faulkner would claim second, but the TRG Porsche came to a halt on the exit of Turn 2 with 15 laps remaining to bring out the final full course caution.
His misfortune was the Dempsey team's gain, which showed good pace when three-time Grand-Am champion Andy Lally took control of the Porsche 911, and finished second, ahead of JDX Racing.

Pos Cl   Drivers                          Team/Car                    Time/Gap
 1. P1   Heidfeld/Jani/Prost              Rebellion Lola-Toyota   9h37m05.851s
 2. P2   Tucker/Briscoe/Franchitti        Level 5 HPD                  +6 laps
 3. P2   Sharp/Lazzaro/Brabham            Extreme Speed HPD            +6 laps
 4. P2   Cosmo/Kane/Dumbreck              Level 5 HPD                  +7 laps
 5. PC   Marcelli/Cumming/Johansson       BAR1 FLM                    +14 laps
 6. PC   Rayhall/Negri                    8Star FLM                   +14 laps
 7. PC   Bennett/Kimber+Smith/Wilkins     CORE FLM                    +17 laps
 8. GT   Henzler/Sellers/Tandy            Falken Porsche              +19 laps
 9. GT   Muller/Edwards/Auberlen          RLL BMW                     +19 laps
10. GT   Beretta/Malucelli/Liddell        Risi Ferrari                +19 laps
11. P1   Dyson/Burgess/McMurry            Dyson-Lola                  +20 laps
12. GT   Alzen/Martin/Muller              RLL BMW                     +20 laps
13. GT   Bomarito/Wittmer/Kendall         SRT Viper                   +21 laps
14. GT   Magnussen/Garcia/Taylor          Corvette                    +21 laps
15. GT   Farnbacher/Goossens/Dalziel      SRT Viper                   +22 laps
16. GT   Long/Braun/Christensen           CORE Porsche                +22 laps
17. P2   Brown/van Overbeek/Bell          Extreme Speed HPD           +25 laps
18. GT   Sweedler/Keen/Mowlem             Ferrari F458 Italia         +25 laps
19. GT   Gavin/Milner/Westbrook           Corvette                    +25 laps
20. PC   Drissi/Mitchell/French           BAR1 FLM                    +29 laps
21. PC   Guasch/Cheng/Cameron             PR1 Mathiasen FLM           +35 laps
22. GTC  Canache/Pumpelly/Snow            Flying Lizard Porsche       +37 laps
23. GTC  Dempsey/Lally/Foster             Dempsey Del Piero Porsche   +37 laps
24. GTC  Hedlund/Heylen/Fogarty           JDX Porsche                 +37 laps
25. GTC  MacNeil/Bleekemolen/Bleekemolen  Alex Job Porsche            +38 laps
26. GTC  Neiman/von Moltke/Sandberg       Flying Lizard Porsche       +50 laps
27. GTC  Keating/Faulkner/Stanton         TRG Porsche                 +55 laps*
28. GTC  Armindo/Nielsen/Benitez          NGT Porsche                 +55 laps
29. PC   Junqueira/Ende/Menezes           ORECA FLM                   +99 laps
* Not running at finish

Retirements:
    GTC  Putman/Espenlaub/Law             Dempsey Del Piero Porsche   277 laps
    P1   Meyrick/Legge                    DeltaWing                   209 laps
    P1   Graf/Luhr/Dumas                  Pickett HPD                 200 laps
    PC   Nunez/Shears                     Performance Tech FLM        121 laps
    GT   Miller/Holzer/Collard            Miller Porsche               76 laps