Fortec seeks British Formula 3 weight break for new cars
| | |
| --- | --- |
| By Marcus Simmons | Monday, October 14th 2013, 12:18 GMT |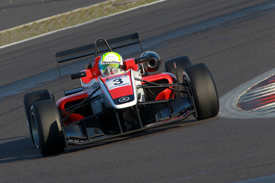 Single-seater powerhouse Fortec Motorsport is to lobby for a weight break for the Dallara F312 chassis in next year's British Formula 3 Championship.
The current-generation cars will compete alongside older-spec 2008-11 cars in British F3's top class, but Fortec claims that the newer cars are at a significant disadvantage.
Lap times at most circuits have not yet reached those achieved from 2008-11. While the newer cars have more consistent aerodynamic qualities, their downforce makes them slower on long straights.
They are also heavier, due to the beefed-up gearbox, driveshaft and hubs introduced to cope with the more powerful new engines that will be introduced to the European championship next season.
Fortec boss Richard Dutton hopes to run a two-car squad in British F3, which will stick with the current engines in a bid to realign itself as a feeder series to European F3.
The provisional rules state that older cars will have to run 5kg heavier, but Fortec team manager Andi Scott estimated that a ballpark figure for parity would be closer to 20kg heavier.
Dutton, who has one driver already on the books for British F3 and is understood to be close to a second, said: "Unless they rethink the weight, you take out any opportunity for the 312s to run competitively.
"They've reduced the weight limit for the 312, but you can't actually bring it down any further.
"The old car is quicker, and lighter. We want to run two of our 312s in British F3 and three in European, but there's work to be done on the rules for the British.
"If we have to run the old cars, we'll get hold of some, because I want to see as many cars on the grid as possible, but I'd prefer to run the new ones."
HOW THE CARS STACK UP
A comparison of fastest qualifying times between new-generation cars and 2008-11 machinery from the circuits on British F3's 2014 calendar suggests that the older cars have the edge on circuits with long straights, but that new cars are strong on tracks predominantly made up of high and medium-speed corners.
This is with the provisos of different drivers, track/weather conditions and small changes in tyre construction:
Circuit         Best 2008-11 time      Best 2012-13 time      Old/new
Snetterton      1m39.147s (Nasr)       1m41.170s (Harvey)     -2.023s
Spa             2m14.101s (Turvey)     2m15.157s (Serralles)  -1.056s
Silverstone     1m53.044s (Magnussen)  1m53.680s (Lynn)       -0.636s
Brands Hatch    1m17.151s (Ricciardo)  1m17.048s (Harvey)     +0.103s
Donington Park  1m23.012s (Nasr)       1m22.590s (Harvey)     +0.422s


* no times for Thruxton, as current cars have not yet raced there, or Rockingham, as the older cars never used the new longer layout.