European Rallycross champions Nitiss, Tohill get Supercar test
| | |
| --- | --- |
| By Hal Ridge | Monday, October 7th 2013, 08:30 GMT |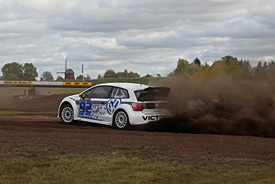 European Rallycross champions Reinis Nitiss and Derek Tohill tested a top-level Supercar as part of the prize package for their success.
Nitiss took the Super1600 crown while Tohill was the TouringCar champion this year.
The test is a newly-introduced award for this season from championship promoter IMG Motorsports.
The pair took the wheel of a Marklund Motorsport VW Polo R Supercar at the Kinnekulle Ring in Sweden, with regular driver Anton Marklund in attendance.
Both drivers completed 16 laps during the test.
"That was interesting," said Tohill. "The Polo is the fastest car I've ever driven, the startline performance is shocking, amazing, there's nothing you could possibly do to match that. The brakes are so much better than I expected.
"It's given me a great insight into what driving a Supercar is all about and how I need to prepare for next year."
Both Tohill and Nitiss are aiming to race in the Supercar class next season.
"It's really hard at the start getting into the Supercar but my feeling is good, the car is very good. With every lap I'm getting better and better," said Nitiss.
"A Supercar is so fast and everything happens much more quickly than I am used to in a Super1600, but Marklund the Polo was perfect, the best car I have driven.
"I am working very hard to get the budget to race in the World Championship next year so having the test and being able to prove myself in a Supercar is great."