McLaren critical of 'irrational' rivals over Austin F1 test
| | |
| --- | --- |
| By Jonathan Noble | Friday, October 4th 2013, 01:41 GMT |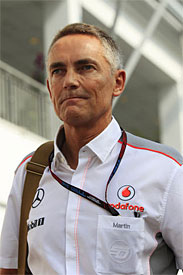 McLaren boss Martin Whitmarsh thinks rival teams have been irrational in complaining that his outfit could have gained an advantage from a Pirelli test at Austin.
The Woking-based team had hoped to be able to help out Pirelli with its 2014 tyre development programme during a pre-United States Grand Prix test with a 2011 car later this month.
But after some teams were left unhappy at the plans, fearing McLaren could gain an advantage for the Austin race, the FIA declined to give Pirelli approval for the test.

Whitmarsh has said he is not surprised that rivals complained, but thinks that ultimately their paranoia is misplaced and all the cancelled test will do is hurt Pirelli's preparations for next year.
"I think testing the 2011 car with 2014 tyres, and with all due respect to them, Oliver Turvey or Kevin Magnussen doing the driving, it was not going to be an awful lot of help for us," Whitmarsh said when asked by AUTOSPORT about the abandoned test.
"It is not an over-riding disappointment, but what is I suppose disappointing if that Pirelli clearly want to do the test.
"They have a challenge on with the rear tyres [for 2014] and we are denying them that opportunity. So that is not good really."
Whitmarsh has ruled out making a push to try to convince the teams to rethink their opposition though.
"I said all along that we would completely respect what the other teams thought, and you can see it from the FIA's point of view.
"People have been asking if we should try to go and appeal and argue: but it is more about how it would be viewed. It doesn't matter it is the 2011 car, or 2014 tyres - you can see people will build it up into 'McLaren getting an advantage'. So it is about perception.
"I can understand the FIA's position on it and I suspect a couple of teams chipped in and said this was scandalous, but ultimately it is the FIA's decision.
"I am not surprised, but I don't think it is particularly rational. But we are driven by emotions aren't we?"