Paul Ricard FR3.5: Magnussen beats Vandoorne in practice
| | |
| --- | --- |
| By Glenn Freeman | Friday, September 27th 2013, 15:53 GMT |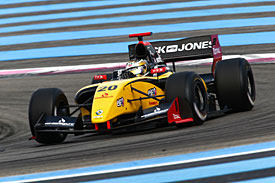 Kevin Magnussen stole top spot from title rival Stoffel Vandoorne in the dying seconds of Formula Renault 3.5 free practice at Paul Ricard on Friday.
Championship leader Magnussen, who had comfortably led the morning session, knocked Vandoorne out of first place with 10 seconds left in the afternoon running.
The Dane then made use of his final lap to go another 0.2 seconds faster, becoming the only driver to get under the 1m48s barrier all day and extending his margin over fellow McLaren junior Vandoorne to three tenths of a second.
The title protagonists had been relatively quiet in the second session until the final five minutes, with the Lotus entries of Marco Sorensen and Marlon Stockinger and Comtec pair Daniil Move and Lucas Foresti leading the way for much of the afternoon.
Vandoorne, who had only been fifth quickest in the morning, appeared to have stolen the fastest lap of the day from Magnussen when he beat his rival's session-topping time from the morning.
But Magnussen, who can seal the title this weekend, fired an ominous shot with his two laps at the end in response.
Vandoorne had admitted earlier in the day that he and Fortec have to find an answer to Magnussen's pace over a single lap if he is to keep the title fight alive.
"We know Kevin is very quick in qualifying," he told AUTOSPORT. "It doesn't matter if he is then a bit slower in the race, because he already has track position."
Hungaroring race one winner Nico Muller carried his form from the last round into this weekend as he and the Draco team looked strong again, with the Swiss driver ending the day third fastest ahead of Sorensen and Stockinger.
Only 25 cars took part in Friday's running, as ISR's Sergey Sirotkin skipped free practice to perform a Formula 1 demo run for Sauber as part of his preparations for a race drive with the team next year.

Session one

Pos Driver                  Team              Time        Gap    Laps
 1. Kevin Magnussen         DAMS              1m48.392s           19
 2. Nico Muller             Draco             1m48.568s  +0.176s  22
 3. Andre Negrao            Draco             1m48.841s  +0.449s  23
 4. Antonio F. da Costa     Arden Caterham    1m48.884s  +0.492s  21
 5. Stoffel Vandoorne       Fortec            1m48.975s  +0.583s  25
 6. Norman Nato             DAMS              1m48.986s  +0.594s  22
 7. Daniil Move             Comtec            1m49.019s  +0.627s  22
 8. Pietro Fantin           Arden Caterham    1m49.058s  +0.666s  23
 9. Will Stevens            P1 by Strakka     1m49.188s  +0.796s  21
10. Christopher Zanella     ISR               1m49.304s  +0.912s  21
11. Lucas Foresti           Comtec            1m49.388s  +0.996s  22
12. Nigel Melker            Tech 1            1m49.390s  +0.998s  22
13. Matias Laine            P1 by Strakka     1m49.407s  +1.015s  20
14. Oliver Webb             Fortec            1m49.420s  +1.028s  24
15. Zoel Amberg             Pons              1m49.541s  +1.149s  20
16. Jazeman Jaafar          Carlin            1m49.578s  +1.186s  18
17. Mikhail Aleshin         Tech 1            1m49.614s  +1.222s  23
18. Carlos Sainz Jr.        Zeta Corse        1m49.730s  +1.338s  21
19. Marlon Stockinger       Lotus             1m49.908s  +1.516s  15
20. Carlos Huertas          Carlin            1m49.914s  +1.522s  20
21. Arthur Pic              AV Formula        1m50.290s  +1.898s  14
22. Marco Sorensen          Lotus             1m50.508s  +2.116s   9
23. William Buller          Zeta Corse        1m50.523s  +2.131s  13
24. Yann Cunha              AV Formula        1m50.649s  +2.257s  20
25. Nikolay Martsenko       Pons

Session two

Pos Driver                  Team               Time        Gap    Laps
 1. Kevin Magnussen         DAMS               1m47.836s   	   22
 2. Stoffel Vandoorne       Fortec             1m48.204s  +0.368s  24
 3. Nico Muller             Draco              1m48.221s  +0.385s  21
 4. Marco Sorensen          Lotus              1m48.313s  +0.477s  23
 5. Marlon Stockinger       Lotus              1m48.338s  +0.502s  20
 6. Antonio F.da Costa      Arden Caterham     1m48.553s  +0.717s  21
 7. Carlos Sainz Jr.        Zeta Corse         1m48.683s  +0.847s  17
 8. Will Stevens            P1 by Strakka      1m48.687s  +0.851s  19
 9. Arthur Pic              AV Formula         1m48.732s  +0.896s  23
10. William Buller          Zeta Corse         1m48.762s  +0.926s  21
11. Daniil Move             Comtec             1m48.889s  +1.053s  20
12. Lucas Foresti           Comtec             1m48.893s  +1.057s  20
13. Norman Nato             DAMS               1m48.930s  +1.094s  23
14. Matias Laine            P1 by Strakka      1m48.974s  +1.138s  19
15. Nigel Melker            Tech 1             1m49.099s  +1.263s  20
16. Andre Negrao            Draco              1m49.121s  +1.285s  21
17. Mikhail Aleshin         Tech 1             1m49.215s  +1.379s  22
18. Oliver Webb             Fortec             1m49.319s  +1.483s  21
19. Nikolay Martsenko       Pons               1m49.375s  +1.539s  23
20. Pietro Fantin           Arden Caterham     1m49.643s  +1.807s  23
21. Jazeman Jaafar          Carlin             1m49.671s  +1.835s  20
22. Zoel Amberg             Pons               1m49.779s  +1.943s  22
23. Carlos Huertas          Carlin             1m49.878s  +2.042s  15
24. Yann Cunha              AV Formula         1m50.519s  +2.683s  20
25. Christopher Zanella     ISR                1m50.651s  +2.815s  14