New team Puma 3 M-Sport joins Auto GP
| | |
| --- | --- |
| By Peter Mills | Friday, September 27th 2013, 11:00 GMT |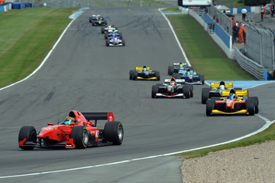 Auto GP has announced that new Spanish team Puma 3 M-Sport will join next year's championship.
Puma 3 M-Sport is the creation of engineer Jaime Pintanel and coach Orlando Rios. Pintanel worked with Auto GP's technical advisor Enrique Scalabroni during his tenure as team-manager for the BCN Formula 3000 and GP2 teams.
"We are happy to become part of one of the best championships in Europe, so we will be able to profit from the experience we built throughout the recent years in GT, F3, Formula 3000 and GP2 competition," said Pintanel, who has in part been drawn to the Auto GP thanks to the reintroduction of a circa €300,000 prize fund for 2014.
"[Auto GP] is unparalleled in terms of the product, time available on-track and prize money for the drivers."
Puma 3 M-Sport is set to make its track debut at Auto GP's Jerez test in October.
"I am extremely happy to welcome a new team to Auto GP for next season," said series boss Enz Coloni, "and even happier that they decided to get on-track before the end of 2013.
"I already had the pleasure to work with Jaime Pintanel and his team in Formula Nissan in Spain and I am sure they will join the frontrunners from their first steps in the collective test."