Bentley's new GT3 debut set for Gulf 12 Hours in Abu Dhabi
| | |
| --- | --- |
| By Gary Watkins | Thursday, September 26th 2013, 11:00 GMT |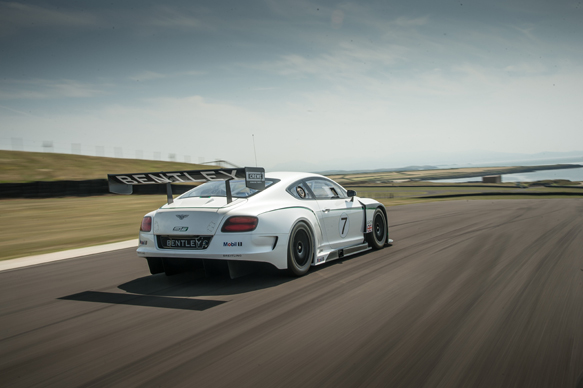 Bentley will make its return to international sportscar racing with its new GT3 contender at the Gulf 12 Hours in Abu Dhabi in December.
The new Bentley Continental GT3, the manufacturer's first racing car since the 2003 Le Mans 24 Hours-winning Speed 8, will run in the two six-hour races that make up the Gulf 12 Hours around the Yas Marina circuit on December 13.
The solo entry will be run by Malcolm Wilson's M-Sport organisation, which is jointly developing the Continental for racing with Bentley.
Bentley was keen to compete against other GT3 cars before the end of the year, ahead of its assault on the full Blancpain Endurance Series in 2014. It believes that this will help it attain the correct Balance of Performance for its V8-powered racer for next season.
The final entry list for the two-part enduro has yet to be announced, but organisers have revealed that Aston Martin, Audi, BMW, Ferrari, Lamborghini, McLaren and Mercedes will be represented on the grid with GT3 machinery.
Plans to try to get the Continental GT3 ready in time for either last weekend's Blancpain finale at the Nurburgring or the British GT Championship finale at Donington Park in October were abandoned some time ago.
Bentley Motors motorsport project manager John Wickham said: "We looked at the schedule a few months back and said we couldn't do Donington, and Abu Dhabi was the next race along.
"It was vital to get out there this year to start preparing for 2014. Abu Dhabi is a good race to do, because of its format and because it is not part of any championship."
The Abu Dhabi event also gives Bentley the chance to compete in an invitation class should it have failed to complete its GT3 homologation with the FIA in time.
SMITH AND MEYRICK AMONG TESTERS
Drivers for Bentley's return to motorsport have yet to be announced, but the line-up is likely to include the names of at least some of the drivers who have been part of the test programme underway since July.
Guy Smith, who has been retained as an ambassador by Bentley since winning Le Mans in the Speed 8, former Aston Martin Racing driver Andy Meyrick and one other driver, whose name has not be revealed for contractual reasons, have undertaken the testing.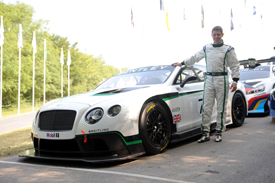 The first Continental GT3 has so far completed approximately 3800km (2350 miles) of testing since its shakedown at the Anglesey circuit ahead of the race car's public debut at the Goodwood Festival of Speed in July.
It has subsequently run at the Welsh circuit again, Snetterton, Paul Ricard and is completing another two-day test at Snetterton on Thursday this week.
Bentley motorsport director Brian Gush said: "The car has performed extremely well so far and has matched or exceeded our simulations in every respect. With [more than] 3000km of testing completed already, the team is very pleased with progress and we're gaining confidence in our package."