Chris Atkinson strengthens Hyundai WRC links
| | |
| --- | --- |
| By David Evans | Monday, September 23rd 2013, 14:56 GMT |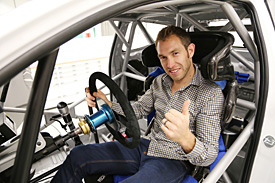 Hyundai Australia has signed Chris Atkinson up as a brand ambassador, as the Australian pushes for a full-time World Rally Championship return with the brand in 2014.
Atkinson is currently one part of the Hyundai test drivers. No decision on the team's 2014 line-up have yet been taken, and are not expected until the end of October.
Australia remains one of Hyundai's strongest global markets, with its cars outselling Ford there.
Hyundai Australia's Bill Thomas said that while the national importer wanted to see Atkinson in the 2014 WRC line-up, it understood the decision was out of its hands.
"The WRC programme is a terrific brand builder, it's a way of shifting Hyundai forward with sporting intention," he said.
"And to have an Australian driver in the middle of that programme is massive for us.
"But, at the same time, we're not expecting anything [from next year]. We realise the decision [of which drivers to take in 2014] is not ours to take, but Chris will be working as hard as he can to get it done.
"To have an Australian driver in the World Rally Championship would be extremely important to Hyundai Australia - we simply couldn't put a value on it."
Atkinson said: "It's fantastic to be involved with Hyundai Australia as well as Hyundai itself. Obviously I want to be driving next year, but we just have to wait and see what happens."
Juho Hanninen and Bryan Bouffier are also involved in the Hyundai test programme.