Gotz wants another DTM test after Lausitz run with Mercedes
| | |
| --- | --- |
| By Jamie O'Leary | Thursday, September 19th 2013, 09:27 GMT |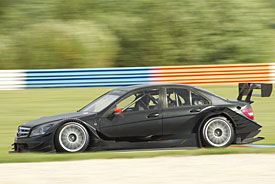 Spa 24 Hours winner Maxi Gotz said he was desperate for another DTM test after having his maiden run for Mercedes in a private test at Lausitz this week.
The 27-year-old German and Maxi Buhk, who shared his Spa-winning Mercedes SLS AMG GT3 at the Blancpain Endurance Series' blue-riband event this year, drove old-spec Mercedes C-classes at the German track.
"Of course it was mega awesome to get the chance to test the DTM C-class. It's a dream come true for me and I really enjoyed stepping on the gas and finding my limit," Gotz said.
"Of course, driving the DTM car felt very new and unfamiliar compared to the SLS AMG GT3 but I felt very much at ease and had a lot of fun.
"I would love to be able to jump straight back in the car and post a few more laps!"
Mercedes is yet to decide whether to continue with a six-car line-up in next year's DTM or to field eight as Audi and BMW currently do.
Toto Wolff, Mercedes motorsport chief, recently told AUTOSPORT that a decision would not be taken until after the end of the DTM season in October.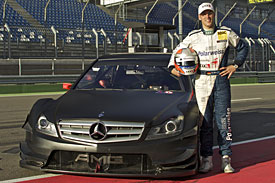 Wolff stopped short of listing Gotz and Buhk as potential drivers for next year's DTM season, but did say: "The two guys are two of the most talented drivers in sportscar racing.
"They both deserve this opportunity to test after their achievements in Mercedes-AMG's customer sport programme.
"Both posted fast lap times in our DTM car and gave good feedback. I'm certain that these two will realise their potential and have the talent to achieve many more successes."