Montoya says Penske IndyCar deal offers instant success
| | |
| --- | --- |
| By Mark Glendenning | Wednesday, September 18th 2013, 10:45 GMT |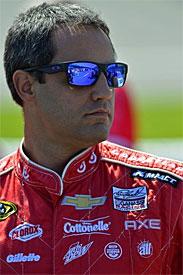 Juan Pablo Montoya says that the potential to be competitive immediately with Penske was the main force in his decision to return to IndyCar racing next year.

The Colombian will race a third full-time Penske IndyCar entry alongside Helio Castroneves and Will Power next year.
He also had an offer from Furniture Row Racing to remain in NASCAR.

Why Montoya is a game-changer for IndyCar

But while the team has made history this year by becoming the first single-car outfit to make the Chase with driver Kurt Busch, Montoya said that IndyCar with Penske was too good an opportunity to turn down.
"With Furniture Row, we made some progress there and I went and visited their shop," he said. "It's a small shop but they really have all the tools to get the job done and they showed it this year with the car making the Chase and everything.
"It comes down to the same thing: winning. They are a very good team, but they are 'there', and I've been 'there', and from there to win, it's a long step.
"At Penske they are giving me all the tools to be able to get the job done."
The 1999 CART champion and 2000 Indianapolis 500 winner also believes that he leaves NASCAR as a stronger driver, despite having only claimed two wins in the category's top tier.
"I don't feel like I wasted seven years in NASCAR," he said. "I think it's been a great experience for me. It made me a much better driver.
"I learned things that I think if I would have stayed in open-wheel I would never have learned. You become a lot smarter as a driver.
"We didn't have the [NASCAR] success we wanted, but we did win races; we made the Chase.
"If you look over the Ganassi history, the only driver that's ever made the Chase for that team, it's me. So, do I want more success? Yeah, of course I want it, and the reason we are here today is because I want more success.
"I want to win races, and I know that it's going to be an uphill battle mentally, physically, and learning everything again. But I have no doubt in my mind that I can do it."