NASCAR adds Jeff Gordon to Chase line-up after race-fix scandal
| | |
| --- | --- |
| | Friday, September 13th 2013, 22:31 GMT |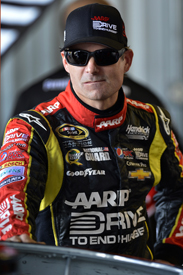 NASCAR has added Jeff Gordon as a 13th participant in the Sprint Cup's Chase for the title in response to the Richmond race-fixing scandal.
The Chase line-up had already undergone one change as Martin Truex Jr had been replaced by Ryan Newman due to the penalties imposed on Truex's Michael Waltrip Racing team for attempting to manipulate the Richmond event through unnecessary pitstops and an allegedly choreographed spin by Clint Bowyer.
It then emerged that NASCAR was also investigating allegations of collusion between the Front Row and Penske teams to help the latter's Joey Logano to get into the Chase.
Gordon had narrowly missed out on a Chase spot. Series chairman Brian France said that with the process tarnished, the only fair option was to allow the Hendrick driver in.
"There were too many things that altered the event and gave an unfair disadvantage to Jeff and his team, who would have qualified," said France.
"I have the authority to do that. It is an unprecedented and extraordinary thing, but it's also an unprecedented and extraordinary set of circumstances that unfolded in multiple different ways on Saturday night.
"We believe this was the right outcome to protect the integrity of NASCAR, which is our number one goal."
The Front Row and Penske teams have been put on probation until the end of the year, despite France saying there was no firm evidence of wrongdoing.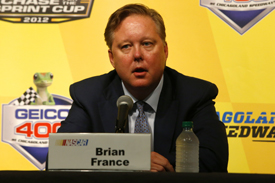 "We don't believe that bargain ever happened, and we don't believe anything happened, other than the discussions about it, and that's why we think the probation is an appropriate message there," France explained.
The series will meet with teams and drivers on Saturday to clarify the rules regarding what France described as "racing ethics".
"We're going to protect the integrity of the sport, no matter what it takes," said France.
"We're going to make sure that we have the right rules going forward that are clear so that the integrity of the competitive landscape of the events is not altered in any way or manipulated."