Tom Onslow-Cole joins Motorbase for final British Touring Car races
| | |
| --- | --- |
| By Kevin Turner | Wednesday, September 11th 2013, 07:42 GMT |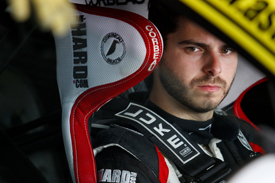 Tom Onslow-Cole will join Motorbase for the final three rounds of the British Touring Car Championship.
Onslow-Cole, who is currently 11th in the BTCC standings, left the Team Hard squad last week.
He will now race a third NGTC Ford Focus alongside Motorbase regulars Mat Jackson and Aron Smith.
Seven-time BTCC race winner Onslow-Cole, 26, said: "It's been an emotional week of ups and downs but this news is fantastic. I'm so happy to be back on the grid and I am ever thankful to [Motorbase boss] David [Bartrum] and everyone that made this possible.
"Motorbase are a great team and I'm really looking forward to getting my hands on the Ford Focus NGTC.
"Unfortunately there isn't the chance to test before Rockingham but with the help of Mat, Aron and the team I'm sure I'll get up to speed quickly."
Bartrum, who confirmed Onslow-Cole will make his Motorbase debut at Rockingham this weekend, hopes the new arrival will help boost the team in what has been a difficult season.
"We've been approached by quite a few people in regards to the third NGTC car, and I wanted to put it out for the right type of driver," he said.
"To suddenly find Tom available was both quite a shock and at the same time a nice surprise as it's the perfect fit with our team.
"I am over the moon that I've been able to put together what could possibly be the strongest driver line-up in the BTCC.
"It's been a tough year for our team; the drivers and team have had to work quite hard and I think that the team can only benefit from adding Tom to our line-up.
"I'm now really looking forward to Rockingham and getting some good results."
Team Hard has already confirmed experienced racer Andy Wilmot will take Onslow-Cole's VW Passat seat at Rockingham.