Baltimore ALMS: Klaus Graf's Pickett HPD takes another pole
| | |
| --- | --- |
| By Andrew van de Burgt | Friday, August 30th 2013, 22:02 GMT |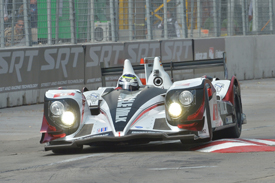 Klaus Graf will start on pole position for Saturday's American Le Mans Series race in Baltimore.
Pickett HPD driver Graf was comfortably faster than the only other LMP1 entry of Chris Dyson, who is back in the Dyson Lola-Mazda this weekend.
Debris on the straight-finish chicane caused the LMP2 session to be suspended. This created a 90-second shoot-out for pole but no one was able to usurp Ryan Briscoe. The Australian was almost half a second faster than Johannes van Overbeek in second.
Bill Auberlen led a surprise BMW one-two in GT qualifying following a great battle with fellow Z4 driver Joey Hand and the Corvettes.
Hand's car will, however, start at the back due to a ride-height infringement.
It was Auberlen's first pole position of the season and only the second time a BMW will start at the head of the super-competitive GT pack this year.
Tommy Milner was the quickest of the 'Vettes in third, while Patrick Long was the faster of the Porsche drivers in fourth. Both move up a spot with the BMW's demotion.
Jeroen Bleekemolen took pole position in the GTC class with a great effort aboard the Alex Job Racing Porsche 911 GT3 Cup car. His late run trumped the benchmark time set by Flying Lizard's Spencer Pumpelly. Brits Sean Edwards and Damien Faulkner fill out the second row.
The LMPC session was also red-flagged after Rusty Mitchell had a big crash at Turn 4. He climbed gingerly from the car, and was transported to a nearby hospital for further checks.
Dane Cameron kept his place at the head of the standings during a fraught final few minutes, during which Kyle Marcelli nicked second from Colin Braun.
Pos  Cl   Drivers                  Team/Car                   Time       Cl. Gap
 1.  P1   Graf/Luhr                Pickett HPD                1m25.290s
 2.  P1   Dyson/Smith              Dyson Lola-Mazda           1m26.750s  +1.460s
 3.  P2   Tucker/Briscoe           Level 5 HPD                1m27.170s
 4.  P2   Brown/van Overbeek       Extreme Speed HPD          1m27.669s  +0.499s
 5.  P2   Sharp/Lazzaro            Extreme Speed HPD          1m27.818s  +0.648s
 6.  PC   Guasch/Cameron           PR1 Mathiasen FLM          1m28.235s
 7.  P2   Tucker/Cosmo/Franchitti  Extreme Speed HPD          1m28.335s  +1.165s
 8.  PC   Marcelli/Cumming         BAR1 FLM                   1m28.518s  +0.283s
 9.  PC   Bennett/Braun            CORE FLM                   1m28.716s  +0.481s
10.  PC   Junqueira/Popow          RSR FLM                    1m29.081s  +0.846s
11.  GT   Auberlen/Martin          RLL BMW                    1m29.560s
12.  GT   Gavin/Milner             Corvette                   1m30.007s  +0.447s
13.  GT   Long/Kimber-Smith        CORE Porsche               1m30.104s  +0.544s
14.  GT   Magnussen/Garcia         Corvette                   1m30.132s  +0.572s
15.  GT   Henzler/Sellers          Falken Porsche             1m30.238s  +0.678s
16.  GT   Farnbacher/Goossens      SRT Viper                  1m30.599s  +1.039s
17.  GT   Beretta/Malucelli        Risi Ferrari               1m30.900s  +1.340s
18.  GT   Miller/Holzer            Miller Porsche             1m31.352s  +1.792s
19.  GT   Bomarito/Wittmer         SRT Viper                  1m31.358s  +1.798s
20.  GT   Sweedler/Bell            West/AJR Ferrari           1m31.494s  +1.934s
21.  PC   Nunez/Shears             Performance Tech FLM       1m32.234s  +3.999s
22.  GTC  MacNeil/Bleekemolen      Alex Job Porsche           1m34.322s
23.  GTC  Canache/Pumpelly         Flying Lizard Porsche      1m34.515s  +0.193s
24.  GTC  Cisneros/Edwards         NGT Porsche                1m34.602s  +0.280s
25.  GTC  Keating/Faulkner         TRG Porsche                1m34.781s  +0.459s
26.  PC   Mitchell/Drissi          BAR1 FLM                   1m34.905s  +6.670s
27.  GTC  Carter/Estre             TRG Porsche                1m34.949s  +0.627s
28.  GTC  Hedlund/Heylen           JDX Porsche                1m35.371s  +1.049s
29.  GTC  Neiman/von Moltke        Flying Lizard Porsche      1m35.496s  +1.174s
30.  GTC  Dempsey/Lally            Dempsey Del Piero Porsche  1m35.501s  +1.179s
31.  GTC  Bunting/Siedler          TRG Porsche
32.  GT   Muller/Hand              RLL BMW