Ex-Simtek Formula 1 man Domenico Schiattarella rejoins Superstars
| | |
| --- | --- |
| | Wednesday, August 28th 2013, 16:14 GMT |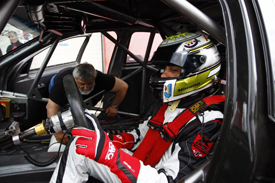 Former Simtek Formula 1 driver Domenico Schiattarella will complete the Superstars International Series season in a Solaris Chevrolet.
The 45-year-old Italian returned to the championship at Zolder in June after a three-year absence, finishing 11th and 10th in the two races.
Schiattarella will drive a Lumina alongside team boss Francesco Sini's Camaro. The intention is for Schiattarella to stay on for 2014 in a second Camaro.
"I'm flattered to be driving in Superstars once again," said Schiattarella. "Both in terms of media package and international recognition, the series is a benchmark in motorsports.
"My goal is to start fighting for the top spots in order to be a top player in 2014."
Sini expects Schiattarella to be on better form when he returns at Donington Park this weekend than he was on his Zolder outing.
"After Zolder, we spoke to each other quite often in order to plan our future together, as we were both satisfied with our work," said Sini.
"I think he will be much more competitive than in Belgium because he knows the car now."