Lucas Ordonez test driver for Nissan's ZEOD electric Le Mans racer
| | |
| --- | --- |
| By Gary Watkins | Thursday, August 22nd 2013, 08:32 GMT |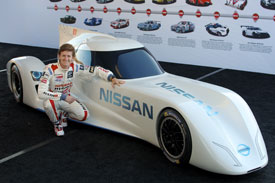 Inaugural Nissan GT Academy winner Lucas Ordonez will be the test driver for the Japanese manufacturer's ZEOD RC experimental electric racer that will contest next year's Le Mans 24 Hours.
The 28-year-old Spaniard, who is racing for Nissan in this year's FIA GT Series and the Blancpain Endurance Series, will lead development of the car, which will fill the Garage 56 grid spot reserved for environmentally-friendly machinery at Le Mans in 2014.
Ordonez, who raced the Nissan DeltaWing at Petit Le Mans last year, said: "After working with Ben Bowlby [lead designer of the ZEOD] and the guys developing the Nissan DeltaWing for Petit Le Mans, it's really amazing to have this great news.
"To actually start from the beginning of the project is just a dream for me."
Nissan global motorsport boss Darren Cox explained that Ordonez's route into motorsport as the first "gamer-turned-racer" made him ideal for the job of developing the ZEOD.
"The Nissan ZEOD RC is unlike any racecar previously developed and Lucas doesn't have 10 or 15 years of pre-conceived ideas as to what a race car should or shouldn't do," he said.
The monocoque of the ZEOD, which retains the architecture of the DeltaWing, has been completed and the car is on target to run for the first time in fully-electric mode next month.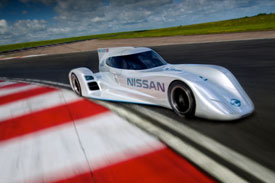 "We will run it in private first, but we might then demonstrate it in public in a high-profile way," said Cox.
The internal-combustion booster engine, or range-extender, that will form part of the ZEOD's powertrain isn't scheduled to run in the car until the new year.
Nissan is keeping details of the engine secret, but Cox described it as a "hidden gem".
ZEOD stands for zero emissions on demand and Nissan has the target of achieving a top speed of 186mph and completing laps of the 8.47-mile Circuit de la Sarthe at Le Mans using only electric power