Performance Racing eyeing 2014 entry into new-look British F3
| | |
| --- | --- |
| By Marcus Simmons | Tuesday, July 30th 2013, 12:05 GMT |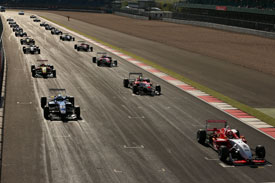 British Formula 3's change of direction for 2014 has already tempted one new team to declare an interest in entering.
Swedish-owned Performance Racing, which competes in the German F3 Cup, wants to put together a squad to return to a championship it contested between 2001 and '07.
The new format of British F3, announced last Friday by promoter Stephane Ratel, features six rounds - five in the UK – and new-spec 2012-15 chassis competing together with older 2008-11 cars in the same class, powered by the existing FIA-rules engine.
It will move British F3 out of step with the European F3 Championship, which is switching to new engines for 2014.
Performance boss Bobby Issazadhe said: "This is a golden opportunity to use the obsolete engines and as many of the Dallara F308 chassis around as we can, and try to equalise them with the F312.
"I think it's a very good step from Ratel and I'm very much up for it.
"My only reservation is that perhaps we need at least seven rounds just to make it a proper championship – there are enough good circuits in England – but perhaps this can be up for discussion."
Issazadhe added that a British F3 campaign would not necessarily mean the end of Performance's involvement in German F3, and that he could run teams in both.
Existing British F3 teams are also positive about the new format, which some estimate could lower budgets to roughly €300,000 for a competitive team with a good level of testing.
Double R Racing chief Anthony 'Boyo' Hieatt said: "The European championship is a very high level and the British would be a good series to come and gain some experience of F3.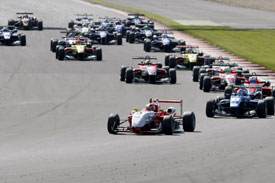 "I've got Dallara F308s and we'd hope to run three cars – it's a fantastic car and it would be good for junior engineers as well as drivers."
Carlin boss Trevor Carlin added: "If drivers can see the logic of it, we've got the equipment, the cars, the spares, everything. I just hope customers view it as an option compared to Formula Renault 2.0."
And CF Racing head Hywel Lloyd said: "It's back to British, which is a positive step. Hopefully drivers can view it as a stepping stone to European F3 or something else."