Spa 24 Hours: Marc VDS BMW leads into night
| | |
| --- | --- |
| By Gary Watkins | Saturday, July 27th 2013, 23:00 GMT |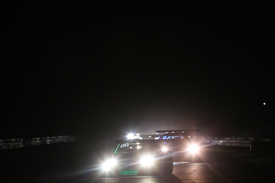 The Belgian Marc VDS BMW squad led the Spa 24 Hours at the eight-hour mark as rain began to full for the first time in this year's event.
The #4 Marc VDS BMW Z4 led by over two minutes in the hands of Henri Moser, who was on slick tyres, unlike his pursuers.
Second-placed Richard Lietz had just stopped for wets in the Manthey Porsche 911 GT3-R, while the second Marc VDS Bimmer was also on grooved Pirellis in the hands of Maxime Martin.
The #4 BMW, which Moser shares with Nicky Catsburg and Markus Palttala, had battled with the Porsche driven by Lietz, Marc Lieb and Patrick Pilet for the better part of four hours.

Spa 24 Hours live video stream
The two cars swapped positions on multiple occasions and were separated by just a handful of seconds for much of their battle.
The status quo was restored shortly after the eight-hour point when Moser pitted, leaving a wet-shod Catsburg with a narrow lead over Lietz in the Porsche.
The other car to lead during this period was the HTP Motorsport Mercedes-Benz SLS AMG in which touring car legend Bernd Schneider joined team regulars Maximilian Gotz and Maximilian Buhk.
The Mercedes, which ran fourth at one-third distance, was out of sync on pitstops with its rivals after making its first two stops under safety-car conditions early in the race.
Fifth place was held by the Vita4One Racing BMW driven by Frank Kechele, Greg Franchi and Stephano Colombo, with the best Audi R8 LMS ultras, the WRT entry shared by Frank Stippler, Andre Lotterer and Christopher Mies, in sixth.
Points were awarded at the six-hour mark of this double-scoring round of the Blancpain Endurance Series.
The #4 Marc VDS car was ahead at this point, while the seven points won by Martin and team-mates Yelmer Buurman and Bas Leinders moved them to within seven points of the championship-leading Kessel Racing Ferrari squad of Davide Rigon, Daniel Zampieri and Cesar Ramos.