IndyCar mandates twin-turbo engines for 2014
| | |
| --- | --- |
| By Mark Glendenning | Thursday, July 25th 2013, 22:32 GMT |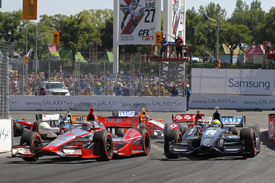 Twin-turbo systems will become mandatory next year as part of an ongoing move to ensure parity between engine manufacturers Honda and Chevrolet in IndyCar.
The decision, while not a surprise, was finally confirmed on Thursday following an IndyCar Engine Committee meeting.
The timing of the change coincides with the first two-year manufacturer homologation update cycle since the series was reopened to manufacturer competition for the 2012 season.
"In an effort for parity throughout the turbocharger range, mandating only a twin-turbo system simplifies our efforts to ensure even closer competition," said Derrick Walker, IndyCar's president of competition and operations.
"Both manufacturers displayed a willingness to use a common turbo spec for 2014, so it made sense to mandate a twin turbocharger that maintains the performance we've come to expect while keeping the technology relevant to the automotive industry."
The change will most affect Honda, which currently races its 2.2 litre V6 in a single-turbo configuration.
Chevrolet returned to the series with a twin-turbo engine developed in partnership with Ilmor.