Spielberg FR3.5: Magnussen and Sirotkin fastest in Friday practice
| | |
| --- | --- |
| By Glenn Freeman | Friday, July 19th 2013, 16:01 GMT |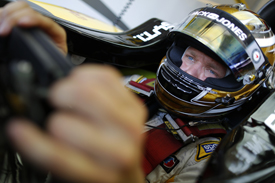 Kevin Magnussen set the pace in Formula Renault 3.5 free practice at Spielberg on Friday as he topped the afternoon session for DAMS.
The Dane, who was in action earlier this week for McLaren at Formula 1's young driver test, led the way for much of the afternoon session and then responded in the closing stages as the majority of the field started to improve.
Magnussen briefly lost top spot to fellow Dane Marco Sorensen, but seconds after the Lotus driver went even quicker to extend his gap at the front, Magnussen went faster still.
A red flag with just over a minute to go halted several other drivers who were on course to improve, including Nigel Melker who had just gone fastest through the first sector.
Magnussen's effort was half a second quicker than the pace had been in the morning session - when likely Sauber 2014 F1 racer Sergey Sirotkin had led a one-two for ISR.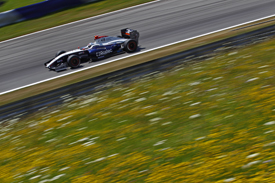 The Czech team was competitive again in the afternoon with Christopher Zanella best of the rest in third, but he was four tenths of a second adrift of the Danish pair out front.
Melker finished the session fourth, ahead of Sirotkin, while Arthur Pic was another driver to improve late on to push Red Bull junior Antonio Felix da Costa down to seventh.
Da Costa was one of several drivers to have lap times deleted earlier in the session for exceeding track limits.
Other frontrunners affected were Magnussen and Sirotkin, and over the course of the 60-minute session race control sent nearly 30 messages to teams warning them about the track limits.
Practice one:

Pos  Driver                  Team            Time       Gap
 1.  Sergey Sirotkin         ISR             1m17.572s
 2.  Christopher Zanella     ISR             1m17.646s  +0.074s
 3.  Arthur Pic              AV              1m17.836s  +0.264s
 4.  Marco Sorensen          Lotus           1m18.015s  +0.443s
 5.  Nico Muller             Draco           1m18.070s  +0.498s
 6.  Marlon Stockinger       Lotus           1m18.081s  +0.509s
 7.  Yann Cunha              AV              1m18.105s  +0.533s
 8.  Nikolay Martsenko       Pons            1m18.109s  +0.537s
 9.  Norman Nato             DAMS            1m18.119s  +0.547s
10.  Stoffel Vandoorne       Fortec          1m18.217s  +0.645s
11.  Riccardo Agostini       Zeta Corse      1m18.338s  +0.766s
12.  Pietro Fantin           Arden Caterham  1m18.372s  +0.800s
13.  Nigel Melker            Tech 1          1m18.482s  +0.910s
14.  Kevin Magnussen         DAMS            1m18.487s  +0.915s
15.  Matias Laine            P1/Strakka      1m18.490s  +0.918s
16.  Carlos Huertas          Carlin          1m18.544s  +0.972s
17.  Jazeman Jaafar          Carlin          1m18.623s  +1.051s
18.  Will Stevens            P1/Strakka      1m18.631s  +1.059s
19.  Zoel Amberg             Pons            1m18.648s  +1.076s
20.  Oliver Webb             Fortec          1m18.703s  +1.131s
21.  Andre Negrao            Draco           1m18.867s  +1.295s
22.  Will Buller             Zeta Corse      1m18.871s  +1.299s
23.  Antonio Felix da Costa  Arden Caterham  1m19.108s  +1.536s
24.  Lucas Foresti           Comtec          1m19.521s  +1.949s
25.  Daniil Move             Comtec          1m19.656s  +2.084s
26.  Mikhail Aleshin         Tech 1          1m19.785s  +2.213s

Practice two:

Pos  Driver                  Team            Time       Gap
 1.  Kevin Magnussen         DAMS            1m17.055s
 2.  Marco Sorensen          Lotus           1m17.151s  +0.096s
 3.  Christopher Zanella     ISR             1m17.501s  +0.446s
 4.  Nigel Melker            Tech 1          1m17.536s  +0.481s
 5.  Sergey Sirotkin         ISR             1m17.548s  +0.493s
 6.  Arthur Pic              AV              1m17.588s  +0.533s
 7.  Antonio Felix da Costa  Arden Caterham  1m17.589s  +0.534s
 8.  Marlon Stockinger       Lotus           1m17.632s  +0.577s
 9.  Oliver Webb             Fortec          1m17.649s  +0.594s
10.  Stoffel Vandoorne       Fortec          1m17.681s  +0.626s
11.  Carlos Huertas          Carlin          1m17.818s  +0.763s
12.  Nikolay Martsenko       Pons            1m17.959s  +0.904s
13.  Will Buller             Zeta Corse      1m17.988s  +0.933s
14.  Andre Negrao            Draco           1m18.035s  +0.980s
15.  Norman Nato             DAMS            1m18.074s  +1.019s
16.  Will Stevens            P1/Strakka      1m18.098s  +1.043s
17.  Yann Cunha              AV              1m18.219s  +1.164s
18.  Nico Muller             Draco           1m18.235s  +1.180s
19.  Lucas Foresti           Comtec          1m18.317s  +1.262s
20.  Jazeman Jaafar          Carlin          1m18.330s  +1.275s
21.  Zoel Amberg             Pons            1m18.416s  +1.361s
22.  Daniil Move             Comtec          1m18.481s  +1.426s
23.  Riccardo Agostini       Zeta Corse      1m18.657s  +1.602s
24.  Matias Laine            P1/Strakka      1m18.905s  +1.850s
25.  Pietro Fantin           Arden Caterham  1m19.011s  +1.956s
26.  Mikhail Aleshin         Tech 1          1m19.510s  +2.455s