Blomqvist says fleeting Norisring Euro F3 win 'too good to be true'
| | |
| --- | --- |
| By Marcus Simmons | Monday, July 15th 2013, 09:42 GMT |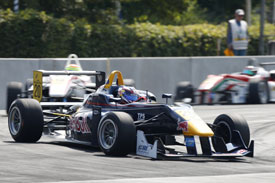 Tom Blomqvist has said that his temporary victory in the first race of the Formula 3 European Championship weekend at the Norisring was "too good to be true."
Red Bull junior Blomqvist finished eighth on the road, but was promoted to victory when six cars ahead were penalised for yellow-flag infringements, while second finisher Felix Rosenqvist was racing under appeal.
But video evidence reviewed later in the day showed that some of those drivers had not committed any offence under yellow flags, while Rosenqvist was also reinstated, relegating Blomqvist to fifth in the final results.
Blomqvist, who drove his EuroInternational Dallara-Mercedes to seventh and fourth positions in the subsequent races, said: "It didn't really feel like I won the race in the first place.
"I was never that satisfied with the win, but obviously I'm now slightly gutted to have it taken away.
"It was kind of too good to be true."
Talking of the reversal of not only the yellow-flag penalties but Rosenqvist's exclusion for a fuel issue, the championship's permanent chief steward Francis Murac said: "I am 68 years old and been involved in automobile sport for 50 years, and have been a steward for many of those.
"This is the first time in my sporting life I have reversed two decisions in one weekend. But if we want to be just, we have to.
"It is good that in the FIA code we can do this."