Mugello Auto GP: Karthikeyan gets win as Giovesi penalised
| | |
| --- | --- |
| By Peter Mills | Sunday, July 14th 2013, 13:07 GMT |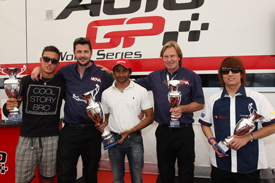 Narain Karthikeyan has inherited victory in Mugello's second Auto GP race after Kevin Giovesi was given a 25-second post-race time penalty.
The Italian was judged to have gained an advantage by breeching the track limits on the run down to first corner San Donato after the start, falling foul of article 5d of the sporting regulations.
The decision drops Giovesi to fifth and hands victory to Karthikeyan.
It is the second time the Indian has inherited a win after Giovesi has picked up a penalty this season, the first occasion occurring at Silverstone last month.
Karthikeyan's Super Nova team-mate Vittorio Ghirelli moves up into second position, while Kimiya Sato completes the revised top three.
Ghinzani driver Giovesi had started from seventh on the grid. Polesitting Auto GP debutant Christian Klien, who had made just one previous start in the car, suffered a slow getaway, causing third-starter Ghirelli, who was boxed in by other cars, to back off.
As the leading cars fanned out across the track, Giovesi was ruled to have overtaken four competitors over the green, red and white lines marking the track limits, resulting in his penalty.