F3 Masters: Felix Rosenqvist dominates qualifying at Zandvoort
| | |
| --- | --- |
| By Gary Watkins | Saturday, July 6th 2013, 14:25 GMT |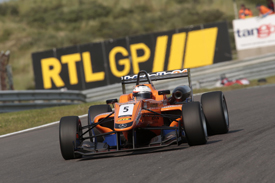 Felix Rosenqvist claimed pole position in his bid to win the Masters of Formula 3 at Zandvoort for a second time.
The Mucke Motorsport Dallara-Mercedes driver topped both qualifying sessions, his first session time of 1m30.839s giving him the pole.
That put the Swede nearly three tenths up on Harry Tincknell in the best of the Carlin Volkswagen-engined Dallaras.
Rosenqvist, who won the Masters in 2011, said: "The car was not so bad, much better than last year.
"We couldn't cope with the Kumho tyres last year, which was a big worry, but the team went away and did its homework."
Tincknell, who is racing at Zandvoort for the first time, explained that he was happy with second place.
"We knew that Felix would be the man to beat, so being alongside him gives me a good shot," he said. "But this is a one-off race, which means only winning counts."
The Italian Prema Powerteam blocked out the second row: Alex Lynn missed out on second by just two hundredths in his Dallara-Mercedes, while Raffaelle Marciello's stand-in Emil Bernstorff was a further tenth behind in fourth.
Lucas Auer and Sven Muller filled out the third row in their respective Prema and Ma-con Dallaras.
Pos  Driver              Team/Car                        Time       Gap
 1.  Felix Rosenqvist    Mucke Dallara-Merc              1m30.839s
 2.  Harry Tincknell     Carlin Dallara-VW               1m31.131s  +0.292s
 3.  Alex Lynn           Prema Dallara-Merc              1m31.154s  +0.315s
 4.  Emil Bernstorff     Prema Dallara-Merc              1m31.255s  +0.416s
 5.  Lucas Auer          Prema Dallara-Merc              1m31.256s  +0.417s
 6.  Sven Muller         Ma-con Dallara-VW               1m31.363s  +0.524s
 7.  Tom Blomqvist       Eurointernational Dallara-Merc  1m31.399s  +0.560s
 8.  Nicholas Latifi     Carlin Dallara-VW               1m31.404s  +0.565s
 9.  Jordan King         Carlin Dallara-VW               1m31.414s  +0.575s
10.  Jann Mardenborough  Carlin Dallara-VW               1m31.572s  +0.733s
11.  Eddie Cheever       Prema Dallara-Merc              1m31.716s  +0.877s
12.  Dennis van de Laar  Van Amersfoort Dallara-VW       1m31.782s  +0.943s
13.  Michael Lewis       Mucke Dallara-Merc              1m31.916s  +1.077s
14.  Pipo Derani         Fortec Dallara-Merc             1m31.964s  +1.125s
15.  Antonio Giovinazzi  Double R Dallara-Merc           1m31.984s  +1.145s
16.  Will Buller         Fortec Dallara-Merc             1m32.001s  +1.162s
17.  Josh Hill           Fortec Dallara-Merc             1m32.029s  +1.190s
18.  Spike Goddard       T-Sport Dallara-Nissan          1m32.279s  +1.440s
19.  Yuhi Sekiguchi      Mucke Dallara-Merc              1m32.391s  +1.552s
20.  Andre Rudersdorf    Ma-con Dallara-VW               1m32.548s  +1.709s
21.  Sean Gelael         Double R Dallara-Merc           1m32.676s  +1.837s
22.  Roy Nissany         Mucke Dallara-Merc              1m32.964s  +2.125s
23.  Sandro Zeller       Zeller Dallara-Merc             1m33.052s  +2.213s
24.  Tatiana Calderon    Double R Dallara-Merc           1m33.153s  +2.314s