British GP: Whiting nearly stopped race because of tyre failures
| | |
| --- | --- |
| By Jonathan Noble | Sunday, June 30th 2013, 17:36 GMT |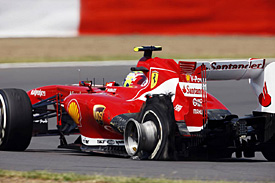 Formula 1 race director Charlie Whiting has revealed that he came close to red-flagging the British Grand Prix in the wake of the multiple tyre failures.
With Lewis Hamilton, Felipe Massa, Sergio Perez and Jean-Eric Vergne all suffering major blow-outs in the early phases of the Silverstone race, Whiting says it had crossed his mind to stop the race on safety grounds.
"It was quite close to being red-flagged; it did occur to me to do that," explained Whiting after the race.
When asked if just one more failure in that phase of the race would have been enough, Whiting replied: "I'm not going to give a specific number. Obviously to clear up all that debris was putting marshals at risk, and it is not satisfactory.
"We haven't seen a failure like this before; we have seen other types of failure - and that is what has been addressed. So we need to analyse it very carefully to see if we can establish the cause."
Whiting said the FIA needed to get answers from Pirelli about what it believes caused the incident before it could establish a way forward.
"It is too early to draw any conclusions," said Whiting. "They have a lot of analysing to do, including the tyres that didn't fail – because maybe we will find something there that was on the verge of failing that will give us a better indicator of what happened.
"It is too early to say what will happen, so it's too early to say what needs to be done."
The tyre safety issue has been added to the agenda of next week's Sporting Working Committee meeting that was already scheduled to take place at the Nurburgring ahead of the German Grand Prix.
However, Whiting believed that the tyre situation needed to move forward before then – so solutions could be put in place.
"We will be on it first thing in the morning," he said. "Pirelli have got to analyse it, to try and find the cause. We need to make decisions earlier than Wednesday."