Le Mans 24 Hours Hour 23: Audi still ahead amid rain chaos
| | |
| --- | --- |
| By Jamie O'Leary | Sunday, June 23rd 2013, 12:09 GMT |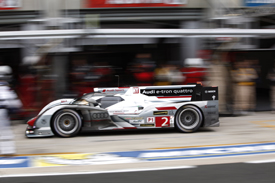 Audi is still on course for victory in the Le Mans 24 Hours, despite a sudden and heavy rain shower with just under 90 minutes remaining that threw the race into disarray.
Leader Tom Kristensen had only just pitted his #2 R18 e-tron quattro unexpectedly after suffering a slow puncture when the rain began to fall across the circuit, forcing him to pit again on the following lap for a set of wets.
As that was happening, Nicolas Lapierre was suffering a front-end twitch at the entry to the Porsche curves and planting his fourth-placed Toyota into the tyre wall at high speed.
While the Frenchman - who had been seven laps clear of fifth-placed Benoit Treluyer - was able to drive back to the pits after a loss of around two minutes, he is now in the garage and could be passed by Treluyer's Audi before the end of the race.
The other Toyota, that of Sebastien Buemi, had been second and less than 30 seconds ahead of Oliver Jarvis' Audi, but with the Brit being delayed by a red light in the pitlane as a result of the safety car coming out, the gap is now more like half a lap.
LMP2 leader Bertrand Baguette was one of three drivers in the class to aquaplane off the track while on slicks on the run down towards Indianapolis, but managed to keep his advantage over his OAK Racing team-mate Olivier Pla.
Pla had been closing by up to 4s per lap prior to the rainstorm and had reduced his deficit to Baguette to just over a minute.
Jann Mardenborough's hopes of challenging John Martin for a podium finish appear to have been ended by a puncture prior to the rain arriving. The #42 Greaves Zytek-Nissan lying fourth.
Richard Lietz led the GTE Pro division, the #92 Porsche driver having stayed out on slicks when the rain hit.
The rival #97 Aston Martin, handed over to Stefan Mucke by Darren Turner at the top of the hour, pitted for wets at the same moment, only for the team to put slicks back on before sending the car out in third spot.
The sister Porsche of Patrick Pilet was shod with wets at the same time, moving ahead of the Aston and into second.
The Manthey-run 911 RSR's therefore hold the top two positions in the class, something that seemed unlikely when Lietz spun at Tertre Rouge at the start of the hour.
The #76 Imsa Porsche continues to climb the order after its near-faultless run. Jean-Karl Vernay is currently at the wheel.
POSITIONS AFTER 23 HOURS

Pos Cl      Car       Drivers                         Laps  Gap
 1. P1  #2  Audi      Kristensen/McNish/Duval         335   
 2. P1  #8  Toyota    Davidson/Sarrazin/Buemi         334   +     1 Lap
 3. P1  #3  Audi      Gene/Jarvis/di Grassi           334   + 4m10.508s
 4. P1  #7  Toyota    Wurz/Lapierre/Nakajima          332   +    3 Laps
 5. P1  #1  Audi      Lotterer/Treluyer/Fassler       325   +   10 Laps
 6. P1  #21 HPD       Leventis/Kane/Watts             319   +   16 Laps
 7. P2  #35 Morgan    Baguette/Plowman/Gonzalez       316   +   19 Laps
 8. P2  #24 Morgan    Pla/Brundle/H Hansson           316   + 7m04.838s
 9. P2  #26 Oreca     Rusinov/Martin/Conway           315   +   20 Laps
10. P2  #42 Zytek     Krumm/Mardenborough/Ordonez     314   +   21 Laps
11. P2  #49 Oreca     P-Companc/Kaffer/Minassian      312   +   23 Laps
12. P2  #46 Oreca     Thiriet/Badey/Martin            310   +   25 Laps
13. P2  #43 Morgan    Gachnang/Mailleux/Lombard       308   +   27 Laps
14. P2  #48 Oreca     Hartley/Chandhok/Patterson      307   +   28 Laps
15. P2  #38 Zytek     Dolan/Turvey/Luhr               306   +   29 Laps
16. P2  #36 Alpine    Ragues/Panciatici/Gommendy      305   +   30 Laps
17. GTP #92 Porsche   Lieb/Lietz/Dumas                303   +   32 Laps
18. GTP #97 Aston     Mucke/Turner/Dumbreck           302   +   33 Laps
19. GTP #91 Porsche   Bergmeister/Pilet/Bernhard      302   + 6m47.001s
20. P2  #34 Oreca     Frey/Niederhauser/Bleekemolen   302   + 11m13.206s
21. GTP #71 Ferrari   Beretta/Kobayashi/Vilander      299   +   36 Laps
22. GTP #74 Corvette  Gavin/Milner/Westbrook          299   +   58.808s
23. GTP #51 Ferrari   Bruni/Fisichella/Malucelli      299   + 2m47.004s
24. GTP #73 Corvette  Garcia/Magnussen/Taylor         299   + 2m49.327s
25. P2  #41 Zytek     Rossi/K-Smith/Lux               295   +   40 Laps
26. GTP #53 SRT       Farnbacher/Goossens/Dalziel     294   +   41 Laps
27. GTA #76 Porsche   Narac/Vernay/Bourret            294   + 4m20.862s
28. GTA #55 Ferrari   Perazzini/O'Young/Case          293   +   42 Laps
29. GTA #61 Ferrari   Gerber/Griffin/Cioci            293   + 4m07.726s
30. GTA #77 Porsche   Dempsey/Foster/Long             292   +   43 Laps
31. GTA #50 Corvette  Bornhauser/Canal/Taylor         290   +   45 Laps
32. GTA #96 Aston     Goethe/Campbell-Walter/Hall     289   +   46 Laps
33. GTA #67 Porsche   Gibon/Milesi/Henzler            289   + 2m29.816s
34. GTP #93 SRT       Wittmer/Kendall/Bomarito        289   + 3m13.633s
35. P2  #40 Oreca     Dagoneau/Downs/Younessi         288   +   47 Laps
36. GTP #66 Ferrari   Bertolini/Faisal/Qubaisi        288   + 3m55.515s
37. GTA #88 Porsche   Ried/Roda/Ruberti               287   +   48 Laps
38. GTA #75 Porsche   Collard/Perrodo/Crubile         286   +   49 Laps
39. GTA #81 Ferrari   Potolicchio/Aguas/Bright        283   +   52 Laps
40. P1  #12 Lola      Prost/Jani/Heidfeld             273   +   62 Laps
41. P1  #13 Lola      Beche/Belicchi/Cheng            273   + 1h04m29.490s
42. P2  #39 Lola      Porta/Brandela/Raffin           269   +   66 Laps
43. GTA #70 Corvette  MacNeil/Rodrigues/Dumas         255   +   80 Laps
44. P2  #33 HPD       Tucker/Franchitti/Briscoe       240   +   95 Laps
45. GTP #99 Aston     Makowiecki/Senna/Bell           248       Retired
46. P2  #45 Morgan    Nicolet/Merlin/Mondolot         246       Retired
47. P2  #47 Morgan    Imperatori/Howson/Tung          241       Retired
48. GTP #98 Aston     Dalla Lana/Lamy/Auberlen        221       Retired
49. P2  #32 Lotus     Holzer/Kraihamer/Charouz        219       Retired
50. P2  #30 Lola      Mowlem/Burgess/Hirschi          153       Retired
51. GTA #54 Ferrari   Mallegol/Bachelier/Blank        147       Retired
52. GTA #57 Ferrari   Krohn/Jonsson/Mediani           111       Retired
53. P2  #25 Oreca     Graves/Hamilton/Nakano          101       Retired
54. P2  #28 Lola      Giroix/Haezebrouck/Ihara        22        Retired
55. P2  #31 Lotus     Weeda/Rossiter/Bouchut          17        Retired
56. GTA #95 Aston     Simonsen/Nygaard/Poulsen        2         Retired