Iowa IndyCar: Helio Castroneves earns pole with heat win
| | |
| --- | --- |
| By Mark Glendenning | Sunday, June 23rd 2013, 00:53 GMT |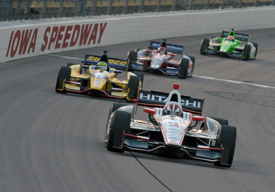 Helio Castroneves will start Sunday's IndyCar race at Iowa from pole position after winning the final heat race at the 7/8th mile oval on Saturday evening.
Castroneves started the heat from pole and was never headed, although Will Power managed to climb through the field and give his Penske team-mate something to think about as the race ended its final 10 laps.
The gap shrank to as little as 0.2 seconds before the pair began to encounter lapped traffic, which enabled Castroneves to recapture some of his advantage.

NEWS UPDATE: Castroneves loses pole to engine penalty
The Brazilian's job was made easier at the end when Power backed off slightly, giving Castroneves another nine points towards his title campaign.
"Nine points right now is really welcome," he said. "I'm excited by what we achieved. The car was really good. We were watching the others in the first couple of heats and it's tough, because you want to make changes but you don't know what."
Power, who had to regain some lost ground after dropping a couple of positions early on, declared himself satisfied with second.
"The car was definitely better than we had in practice, it really came on there," Power said. "Had a moment in Turns 1 and 2 there and just decided to settle for second."
Andretti Autosport locked out the second row, with James Hinchcliffe taking third ahead of Marco Andretti, leaving Ganassi's Scott Dixon as best of the Honda-powered drivers in fifth.
The earlier two heats were a study in contrasts. Heat one, which was for cars that qualified between eighth and 24th in even-numbered positions, was a dull procession from which Dixon and Takuma Sato earned themselves places in the final.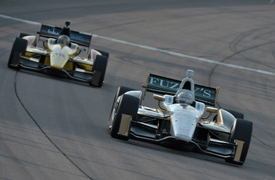 Heat two was far more hard-fought, with much of the excitement coming through Graham Rahal's progress through the field.
He took the lead from Ed Carpenter with four laps remaining, however the race was ended early when his team-mate James Jakes lost control and hit the wall two laps later.
Despite his mishap, Jakes still managed to be classified ahead of Simona de Silvestro, who struggled badly for pace - to the point where she ran three consecutive laps slower than Carlos Munoz's Indy Lights pole time - and finished three laps off the lead.

NEWS UPDATE: Castroneves loses pole to engine penalty
Heat one results - 50 laps:

Pos  Driver              Team/Engine        Time/Gap
 1.  Scott Dixon         Ganassi/Honda   15m25.1012s
 2.  Takuma Sato         Foyt/Honda         +0.7768s
 3.  Alex Tagliani       Herta/Honda        +2.2856s
 4.  Ryan Hunter-Reay    Andretti/Chevy     +2.6547s
 5.  Josef Newgarden     Fisher/Honda       +6.2337s
 6.  Ana Beatriz         Coyne/Honda       +11.0839s
 7.  Sebastian Saavedra  Dragon/Chevy      +14.2120s
 8.  Sebastien Bourdais  Dragon/Chevy      +14.6719s
 9.  Dario Franchitti    Ganassi/Honda     +15.9379s

Heat two results - 50 laps:

Pos  Driver               Team/Engine         Time/Gap
 1.  Graham Rahal         Rahal/Honda      15m46.2056s
 2.  Ed Carpenter         Carpenter/Chevy     +0.5428s
 3.  Simon Pagenaud       Schmidt/Honda       +2.1748s
 4.  Justin Wilson        Coyne/Honda         +3.9980s
 5.  Tristan Vautier      Schmidt/Honda      +16.5997s
 6.  Charlie Kimball      Ganassi/Honda      +17.4519s
 7.  EJ Viso              Andretti/Chevy     +24.3545s
 8.  James Jakes          Rahal/Honda         +2 laps*
 9.  Simona de Silvestro  KV/Chevy             +3 laps

* Not running at finish

Heat three results - 50 laps:

Pos  Driver             Team/Engine         Time/Gap
 1.  Helio Castroneves  Penske/Chevy     15m30.3893s
 2.  Will Power         Penske/Chevy        +3.1480s
 3.  James Hinchcliffe  Andretti/Chevy      +4.4390s
 4.  Marco Andretti     Andretti/Chevy      +4.9046s
 5.  Scott Dixon        Ganassi/Honda       +6.5829s
 6.  Ed Carpenter       Carpenter/Chevy     +8.3003s
 7.  Takuma Sato        Foyt/Honda         +11.2950s
 8.  Tony Kanaan        KV/Chevy           +16.0737s
 9.  Graham Rahal       Rahal/Honda           +1 lap
10.  Oriol Servia       Panther/Chevy         +1 lap

Grid for main race:

Pos  Driver               Team/Engine
 1.  Helio Castroneves    Penske/Chevy
 2.  Will Power           Penske/Chevy
 3.  James Hinchcliffe    Andretti/Chevy
 4.  Marco Andretti       Andretti/Chevy
 5.  Scott Dixon          Ganassi/Honda
 6.  Ed Carpenter         Carpenter/Chevy
 7.  Takuma Sato          Foyt/Honda
 8.  Tony Kanaan          KV/Chevy
 9.  Graham Rahal         Rahal/Honda
10.  Oriol Servia         Panther/Chevy
11.  Simon Pagenaud       Schmidt/Honda
12.  Alex Tagliani        Herta/Honda
13.  Justin Wilson        Coyne/Honda
14.  Ryan Hunter-Reay     Andretti/Chevy
15.  Tristan Vautier      Schmidt/Honda
16.  Josef Newgarden      Fisher/Honda
17.  Charlie Kimball      Ganassi/Honda
18.  Ana Beatriz          Coyne/Honda
19.  EJ Viso              Andretti/Chevy
20.  Sebastian Saavedra   Dragon/Chevy
21.  James Jakes          Rahal/Honda
22.  Sebastien Bourdais   Dragon/Chevy
23.  Simona de Silvestro  KV/Chevy
24.  Dario Franchitti     Ganassi/Honda

All drivers use Dallara DW12 chassis