Britain edges closer to European Rally Championship slot in 2014
| | |
| --- | --- |
| By David Evans | Friday, June 14th 2013, 09:17 GMT |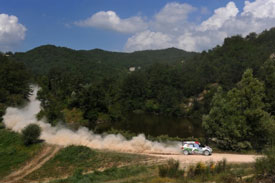 Britain's chances of landing a round of the European Rally Championship next season have been boosted by the news that four events are working towards a 2014 calendar slot.
Series officials want a British event included next season. The Circuit of Ireland was scheduled to run in March this year, before the event suffered the late loss of significant backing.
The Armagh-based rally is one of the four looking towards ERC next year. Rally Yorkshire, a British Rally Championship qualifier, is also in the hunt, while a Sunderland-based event and Rally of Scotland are the final two.
The Circuit and Rally Yorkshire are emerging as the favourites, with Eurosport's Francois Ribeiro even admitting running both events could be an option.
"We have never, never had two ERC rounds in one country before," he said, "but if Britain could come with two exceptional rallies, both of which were well-funded and with very good organisation, then I have to admit, I would be forced to scratch my head and maybe it would be possible.
"I have to say, it would be more likely to be one and I am quietly confident we will be back in the UK next year."
Ribeiro said Circuit of Ireland chief Bobby Willis had not given up on getting his event back in the ERC.
"I know how hard he is working - I am also aware of how much his backers have missed this year; the chance to see Craig Breen on an ERC round at home would have been fantastic," said Ribeiro.
"I also have had a good meeting with people from Yorkshire."
In an effort to raise awareness of Sunderland's ERC bid, a stage will be running as part of the Sunderland Festival in Herrington Country Park on Saturday.
Rally of Scotland has remained in contact with ERC promoter Eurosport since running one of the most popular rounds of the new-look ERC's Intercontinental Rally Challenge predecessor between 2009 and '11.
Ribeiro expects to know by the end of this month which British events will go forward for next year's calendar.