Whitmarsh reckons in-season testing won't mean huge hike in costs
| | |
| --- | --- |
| By Jonathan Noble | Friday, June 14th 2013, 09:10 GMT |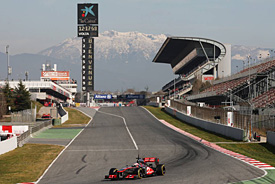 Formula 1 is not risking a dramatic hike in costs as the result of the return of in-season testing next year, reckons McLaren boss Martin Whitmarsh.
As AUTOSPORT reported at the weekend, F1's teams have approved plans for there to be four post-race test sessions in 2014.
The matter now needs to be approved by the FIA at its next meeting of the World Motor Sport Council that takes place in Britain later this month.
Although there has been some concern that in-season testing will force teams to spend more at a time when finances are already tight, Whitmarsh thinks the structure of testing's reintroduction will mitigate this.
"Historically I have always supported a limitation on testing, as well as a whole range of other limitations, but the compromise being struck of testing at a circuit on the Tuesday/Wednesday/Thursday after a race in Europe makes it a little bit more practical," he said.
"What we have also done is take out plethora of demo runs, aero runs, and the young driver test.
"It is a balance and a compromise that has been struck, which I hope a majority of the teams support.
"We have to, nonetheless, continue to find ways we can save costs for the small teams, and be mindful of the challenges that they have as a business."
One way for teams to recoup some of the extra costs of testing could be to find ways to better monetise the events.
However, their ability to do that is hampered by the fact that the commercial rights for testing are owned by Bernie Ecclestone.
"We have tried and done a little bit of that, and by testing together you can do a deal with the circuits," added Whitmarsh.
"But it is more a matter for the commercial rights holder, because when we are running together he owns the rights."