BTCC Oulton Park: Griffin loses Jack Sears Trophy win
| | |
| --- | --- |
| By Kevin Turner | Sunday, June 9th 2013, 13:18 GMT |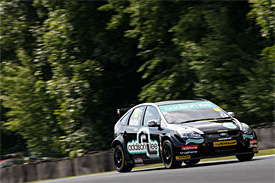 Liam Griffin has lost his Jack Sears Trophy victory in the first race at Oulton Park.
The Motorbase Ford driver chased Lea Wood's Vauxhall Vectra for S2000 honours throughout the race and dived down the inside at the hairpin on the last lap.
The duo then headed to Hislop's chicane side-by-side and Griffin outbraked himself. He ran off the road, cutting the chicane, but continued to lead Wood across the line by just over a tenth.
Now stewards have penalised him one second to drop him back behind Wood.
Wood said: "He had a lunge at the hairpin, took us both out onto the grass, then outbraked himself at the chicane. I think it was a little much."
Griffin did not dispute the penalty.
"It's good racing, good fun," he said. "That's the thing about Jack Sears Trophy - it's only wins that count."