Mika Salo tests European Rallycross Peugeot
| | |
| --- | --- |
| | Tuesday, June 4th 2013, 08:56 GMT |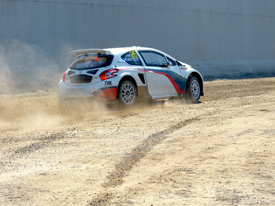 Ex-Formula 1 driver turned sportscar racer Mika Salo is open to competing in rallycross this year after a private test on Monday.
Sato drove the Albatec Racing Peugeot 208 used by Andy Scott in European Rallycross at the Premier Park test facility in Finland.
He had contested a rallycross round two years ago and was impressed with the latest generation car.
"This is just so much fun, I can't stop smiling," Salo said. "And you never know maybe I'll be out in a rallycross event this year.
"I took a little bit of time to know the engine, where the power band is to keep the turbo boost up, but that was all. It handles so nicely; it goes exactly where it should, when I want to go left it goes left.
"But the best part is without doubt the start, it's amazing, it's just really good. The start should be like that in every racing car."