Spielberg European F3: Red Bull star Daniil Kvyat leads practice
| | |
| --- | --- |
| By Jamie O'Leary | Friday, May 31st 2013, 13:11 GMT |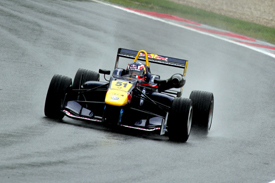 Red Bull protege Daniil Kvyat topped the timesheets in wet free practice for this weekend's Formula 3 European Championship round at Spielberg.
The Russian had been fifth quickest in FP1 in his Carlin Dallara-Volkswagen, but found more than 1.8 seconds during the second session to go fastest in 1m46.022s.
Kvyat was knocked off the top spot late on by Felix Rosenqvist's Mucke Motorsport Dallara-Mercedes, but retook the position with a minute to go.
Rosenqvist, who had been fastest in FP1, was 0.222s slower with F3 newcomer Jann Mardenborough a surprising third in what is only the fifth event of his rookie European F3 season.
Nicolas Latifi and Jordan King made it four Carlin drivers in the top five. Felix Serralles was sixth for Fortec.
Harry Tincknell - second in FP1 - was seventh overall, while championship leader Raffaele Marciello was the best of the Prema Powerteam drivers one spot further back.
In what was a below-par practice for Prema, Lucas Auer failed to get out in FP2; his car spending the session sat in the team's awning with a gearbox problem.
Despite the weather, both sessions were uneventful, a number of investigations into drivers exceeding track limits warranting 'no further action' verdicts.
Qualifying takes place later on Friday afternoon.
Free practice times:

Pos  Driver               Team/Car                    Time       Gap
 1.  Daniil Kvyat         Carlin Dallara-VW           1m46.022s
 2.  Felix Rosenqvist     Mucke Dallara-Merc          1m46.244s  + 0.222s
 3.  Jann Mardenborough   Carlin Dallara-VW           1m46.600s  + 0.578s
 4.  Nicholas Latifi      Carlin Dallara-VW           1m46.731s  + 0.709s
 5.  Jordan King          Carlin Dallara-VW           1m46.930s  + 0.980s
 6.  Felix Serralles      Fortec Dallara-Merc         1m47.142s  + 1.120s
 7.  Harry Tincknell      Carlin Dallara-VW           1m47.081s  + 1.059s
 8.  Raffaele Marciello   Prema Dallara-Merc          1m47.154s  + 1.132s
 9.  Eddie Cheever        Prema Dallara-Merc          1m47.291s  + 1.269s
10.  Lucas Wolf           URD Dallara-Merc            1m47.312s  + 1.290s
11.  Alex Lynn            Prema Dallara-Merc          1m47.337s  + 1.315s
12.  Mitchell Gilbert     Mucke Dallara-Merc          1m47.720s  + 1.697s
13.  Will Buller          Fortec Dallara-Merc         1m47.763s  + 1.741s
14.  Michael Lewis        Mucke Dallara-Merc          1m47.795s  + 1.773s
15.  Sven Muller          Ma-con Dallara-VW           1m47.854s  + 1.832s
16.  Roy Nissany          Mucke Dallara-Merc          1m48.020s  + 1.998s
17.  Tom Blomqvist        EuroIntern'l Dallara-Merc   1m48.142s  + 2.120s
18.  Antonio Giovinazzi   Double R Dallara-Merc       1m48.241s  + 2.219s
19.  Josh Hill            Fortec Dallara-Merc         1m48.452s  + 2.430s
20.  Sean Gelael          Double R Dallara-Merc       1m48.601s  + 2.579s
21.  Dennis van de Laar   Van Amersfoort Dallara-VW   1m48.771s  + 2.749s
22.  Andre Rudersdorf     Ma-con Dallara-VW           1m48.987s  + 2.965s
23.  Mans Grenhagen       Van Amersfoort Dallara-VW   1m49.044s  + 3.022s
24.  Sandro Zeller        Zeller Dallara-Merc         1m49.469s  + 3.447s
25.  Lucas Auer           Prema Dallara-Merc          1m49.689s  + 3.667s
26.  Pipo Derani          Fortec Dallara-Merc         1m48.810s  + 3.788s
27.  Tatiana Calderon     Double R Dallara-Merc       1m50.714s  + 4.692s
28.  Spike Goddard        T-Sport Dallara-Nissan      1m50.881s  + 4.859s