Monaco GP2: Cecotto edges Arden team-mate Evans for pole
| | |
| --- | --- |
| By Charles Bradley | Thursday, May 23rd 2013, 15:16 GMT |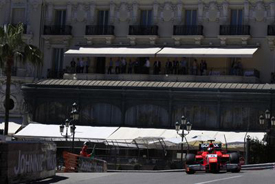 Johnny Cecotto Jr will start round seven of the GP2 Series in Monaco from pole position after topping his qualifying session for odd-numbered cars.
But Arden team-mate Mitch Evans came within 0.016 seconds of toppling him in the second group.
The sessions were split in two, for odd- and even-numbered cars, to avoid the crashes that have occurred in recent years with all 26 cars on track simultaneously.
The flip-side was that drivers only had 15 minutes to set their times, so had just one run on the Pirelli super-soft tyres.
In Group A, last year's feature race winner Cecotto looked ragged but it was resulting in some fantastic times.
He worked his way down to 1m21.141s, some 0.368 seconds clear of second-quickest driver, and free practice pacesetter, Sam Bird of the Russian Time team.
Trident's Kevin Ceccon and Julian Leal (Racing Engineering) were next up.
In Group B, for even numbered cars, the fastest time swapped hands numerously between Tom Dillmann, Mitch Evans, Jolyon Palmer and Fabio Leimer.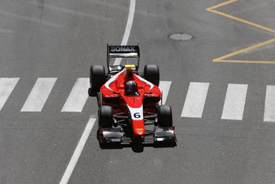 Evans was at the top when the chequered flag fell, but his 1m21.157s was just 0.016s slower than Cecotto's earlier mark.
Cecotto thus earned the Group A runners the cleaner left-hand side of the grid. He will start with Evans alongside him, with row two comprising Bird and Leimer (Racing Engineering).
Ceccon and Palmer (Carlin) will share row three, ahead of Leal and Dillmann (Russian Time).
Frontrunners Felipe Nasr and Robin Frijns will start ninth and 10th, with points leader Stefano Coletti down in 14th.
Pos  Driver               Team                Time
 1.  Johnny Cecotto Jr    Arden               1m21.141s  Group A
 2.  Mitch Evans          Arden               1m21.157s  Group B
 3.  Sam Bird             Russian Time        1m21.509s  Group A
 4.  Fabio Leimer         Racing Engineering  1m21.185s  Group B
 5.  Kevin Ceccon         Trident             1m21.986s  Group A
 6.  Jolyon Palmer        Carlin              1m21.198s  Group B
 7.  Julian Leal          Racing Engineering  1m22.092s  Group A
 8.  Tom Dillmann         Russian Time        1m21.387s  Group B
 9.  Felipe Nasr          Carlin              1m22.163s  Group A
10.  Robin Frijns         Hilmer              1m21.418s  Group B
11.  Marcus Ericsson      DAMS                1m22.349s  Group A
12.  Sergio Canamasas     Caterham            1m21.522s  Group B
13.  Alexander Rossi      Caterham            1m22.511s  Group A
14.  Stefano Coletti      Rapax               1m21.658s  Group B
15.  Rio Haryanto         Addax               1m22.589s  Group A
16.  Nathanael Berthon    Trident             1m22.245s  Group B
17.  James Calado         ART                 1m22.677s  Group A
18.  Stephane Richelmi    DAMS                1m22.317s  Group B
19.  Daniel de Jong       MP                  1m22.943s  Group A
20.  Rene Binder          Lazarus             1m22.376s  Group B
21.  Kevin Giovesi        Lazarus             1m23.006s  Group A
22.  Daniel Abt           ART                 1m22.716s  Group B
23.  Simon Trummer        Rapax               1m23.017s  Group A
24.  Jake Rosenzweig      Addax               1m22.842s  Group B
25.  Jon Lancaster        Hilmer              1m23.443s  Group A
26.  Adrian Quaife-Hobbs  MP                  1m23.328s  Group B