McLaren says Honda engine deal not exclusive
| | |
| --- | --- |
| By Jonathan Noble | Thursday, May 16th 2013, 11:12 GMT |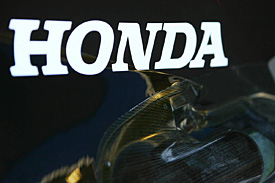 Honda will be ready to supply more teams in Formula 1 in the future if called on to do so, with McLaren confirming it does not have an exclusive arrangement with the Japanese manufacturer.
Ahead of Honda's return to F1 for 2015, there have been suggestions that it may seek another customer team in a bid to fast-track its technical knowledge and maximise its mileage.
Furthermore, the regulations demand that if a team requests a supply of engines then a manufacturer must be willing to provide them if they are not already supplying too many outfits.
Speaking during a teleconference on Thursday, McLaren managing director Jonathan Neale said that Honda was aware it could be called on to supply more teams.
When asked by AUTOSPORT if there was a chance of there being more Honda-powered teams in 2015 or 2016, Neale said: "It is better if Honda answers that directly, but all engine suppliers coming in to F1 know they are doing so with the expectation that should they be required, they are prepared to supply more than one team.
"We have no illusions; and we have a lot of work to be ready for 2015. But should the FIA or Bernie [Ecclestone] request, then Honda is aware of that situation.
"It is not exclusive in that respect."
Neale reiterated that the relationship with Honda was a 'works' deal though, which would ensure it had the closest relationship with the company should it also supply another team.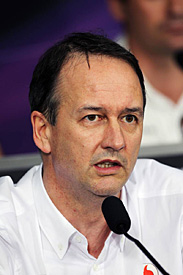 Although Honda will be able to spend a year evaluating rival manufacturers' success and frustrations with the new 1.6-litre V6 turbo engines, Neale did not think it would be a huge advantage.
"I think if you were delaying it three or four years (in to the new regulations) then it could be - as who knows what will happen on inter-cooling technology," he said.
Neale also said that there were no current plans for McLaren and Honda to embark on any track testing in 2014, even though in theory they could do so with an old car that was not covered by the current testing regulations.
"No, there are not plans for that at the moment," he said. "There are constraints in doing that.
"The whole issue of track testing is one that is going around in various quarters at the moment – but it is all up in the air right now. We don't currently have a plan to test."