Pirelli ponders revising Formula 1 tyres in time for British GP
| | |
| --- | --- |
| By Jonathan Noble | Sunday, May 12th 2013, 18:25 GMT |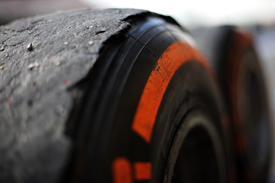 Pirelli is considering an overhaul to its tyres for the British Grand Prix in late June in a bid to prevent excessive pitstops ruining the Formula 1 spectacle.
After a four-stop Spanish Grand Prix reignited the debate about whether Pirelli's aggressive approach to 2013 had gone too far, its motorsport director Paul Hembery admitted on Sunday that changes were now being evaluated.
"We aim for two to three pitstops and it was too aggressive today," he explained. "We want to get back to our plan."
Pirelli has faced repeated calls from reigning champion Red Bull to revert to harder compounds for the remainder of the season, because the Milton Keynes-based outfit believes it cannot exploit the full potential of its car with the current rubber.
So far, Pirelli has resisted those calls - although it did make tweaks to the hard compound for this weekend's Spanish Grand Prix to try and make it easier for the teams to use that specific tyre.
Hembery said that Pirelli would have to think carefully about its exact plans, amid fears that any changes could leave Red Bull well clear at the front of the field.
"We would look for Silverstone, but you have to bear in mind that we have a lot of teams against it and just one maybe for," he said.
"So if I said we were going to make a change, I know I am going to have the podium people today not happy – then you [the media] will be here at Silverstone telling me we have given the championship to Red Bull. It will be damned if you, damned if you don't."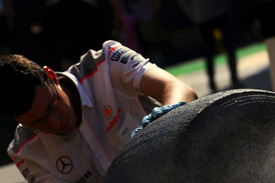 Hembery suggested that tweaks to the tyres would probably need to go beyond just revising the compounds, and that structural changes would likely be needed to ensure that races became two-stops again.
When asked if using the harder experimental tyre tried on Friday in the race would have helped the situation, Hembery said: "We don't think it is enough. The development tyre on Friday would have been better, and had less graining.
"But if we had used the one from Friday morning that would have got us to a three-stop."