Marco Andretti hopes for more passing in Brazil IndyCar round
| | |
| --- | --- |
| By Mark Glendenning | Thursday, May 2nd 2013, 10:48 GMT |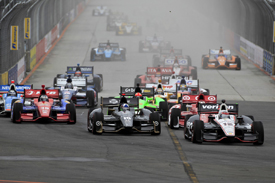 Marco Andretti is optimistic that tweaks to the Sao Paulo circuit layout will improve overtaking opportunities for IndyCar's annual visit to Brazil on Sunday.
The kerbing in Turns 1 and 2 have been moved, making Turn 2 approximately 10 feet wider, and the kerbs have also been lowered, meaning that cars can now pass through the sequence side-by-side.
Andretti said that he expects the changes to improve the racing.
"It was a decent passing zone, but we didn't have enough room to get it done," he said.
"We really had to be all the way through by the time you got to Turn 1 in order to make a clean pass.
"There's no way two cars were fitting through there. Now, I think it will make the passing a bit better."
Circuit designer Tony Cotman told the official IndyCar site that he expects lap times to drop as a result of the changes.
"The corner will be quicker, without question," he said. "The goal was to help improve things for double-file restarts and particularly in the rain. We've seen how difficult it can be over the years."
Other changes include the smoothing of some bumps, and drainage improvements aimed at reducing the amount of standing water in the event of rain.