Jack Sears Trophy set to be permanent part of BTCC
| | |
| --- | --- |
| By Kevin Turner | Wednesday, May 1st 2013, 13:17 GMT |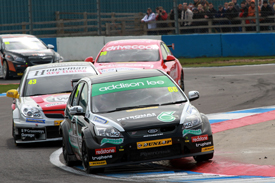 British Touring Car boss Alan Gow wants the Jack Sears Trophy to become a perpetual element of the series.
The award, named after the inaugural BTCC champion, was introduced for S2000 runners this year.
There are currently six S2000 cars in the field and they are being phased out as the main NGTC element of the grid grows.
There is no exact timeframe on how long the S2000s will continue in the series, but Gow plans to continue the trophy even after the cars have gone.
"When the S2000s die, whether that's next year or the year after, the Jack Sears Trophy won't die with it," he told AUTOSPORT.
"We will award it for something else. It's a great name for a trophy."
Gow would not confirm what the trophy would be awarded for after the demise of S2000, but has said that longer races, pitstops and two-driver events were possibilities once the BTCC becomes NGTC-only.
"We gave the NGTCs bigger fuel tanks than the S2000s so we could do longer races if we wanted, but that doesn't mean we definitely will," he added.