Williams group records £5.0 million loss over 2012
| | |
| --- | --- |
| By Pablo Elizalde | Monday, April 29th 2013, 09:05 GMT |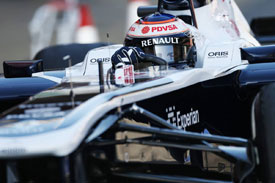 The Williams group recorded a loss of £5.0m in 2012, although a technical accounting treatment meant it was deprived of part of its Formula 1 revenues.
The result compares to a £7.4m profit during 2011.
Williams said that revenue of £9.4 million, received from the sport's commercial rights holder, had not been included in the results "because of the technical interpretation of today's accounting standards."
Williams said its core business has seen turnover increase from £102.3m to £124.3m, meaning an increase in overall group turnover of 22 per cent to £127m, compared to £104.5 in 2011.
"2012 saw Williams make encouraging progress on and off the track and we are determined to continue that upward trend in 2013," said team boss Frank Williams.
"The win at the 2012 Spanish Grand Prix was a particular highlight and we continue to develop strong sponsorship partnerships and engineering relationships. At the end of the year Williams finished eighth in the constructors' championship.
"There is still a way to go for the team to get to where we should be, but improvements on previous seasons are evident."
The team is yet to score a point this season after a difficult start to the year.