Richmond NASCAR: Matt Kenseth leads all-Joe Gibbs front row
| | |
| --- | --- |
| | Friday, April 26th 2013, 22:41 GMT |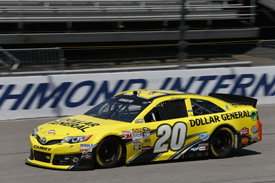 Joe Gibbs Racing responded to a week of bad penalty and injury news by taking a front row sweep for Saturday night's Richmond NASCAR Sprint Cup race.
Matt Kenseth claimed the pole position with a track record lap of 20.716 seconds.
He won at Kansas Speedway last week, but was heavily penalised for an engine irregularity after the race. The team is appealing.
Gibbs' second blow of the week was confirmation that the injured Denny Hamlin would not be fit for the early return he had hoped to make at Richmond.
But Hamlin's stand-in Brian Vickers demonstrated his pace in qualifying by taking second, 0.005s down on Kenseth.
The all-Joe Gibbs Toyota front row is followed by an all-Hendrick Chevrolet row two, on which Jeff Gordon leads Kasey Kahne.
Having been rapid in practice and been one of the few frontrunners to draw a favourable late position in the qualifying running order, Gordon was strongly tipped for pole. Ultimately he was 0.013s down on Kenseth.
Early provisional polesitter Clint Bowyer ended up fifth, ahead of an improved performance from Juan Pablo Montoya in sixth.
Championship leader Jimmie Johnson could only manage 26th place.
Pos  Driver              Team/Car                     Time     Gap
 1.  Matt Kenseth        Joe Gibbs Toyota             20.716s
 2.  Brian Vickers       Joe Gibbs Toyota             20.721s  + 0.005s
 3.  Jeff Gordon         Hendrick Chevrolet           20.729s  + 0.013s
 4.  Kasey Kahne         Hendrick Chevrolet           20.740s  + 0.024s
 5.  Clint Bowyer        Waltrip Toyota               20.744s  + 0.028s
 6.  Juan Pablo Montoya  Earnhardt Ganassi Chevrolet  20.793s  + 0.077s
 7.  Joey Logano         Penske Ford                  20.808s  + 0.092s
 8.  Kyle Busch          Joe Gibbs Toyota             20.828s  + 0.112s
 9.  Martin Truex Jr     Waltrip Toyota               20.834s  + 0.118s
10.  Mark Martin         Waltrip Toyota               20.837s  + 0.121s
11.  Marcos Ambrose      Petty Ford                   20.839s  + 0.123s
12.  Ricky Stenhouse Jr  Roush Fenway Ford            20.841s  + 0.125s
13.  Jamie McMurray      Earnhardt Ganassi Chevrolet  20.844s  + 0.128s
14.  Kurt Busch          Furniture Row Chevrolet      20.862s  + 0.146s
15.  Ryan Newman         Stewart-Haas Chevrolet       20.868s  + 0.152s
16.  Jeff Burton         Childress Chevrolet          20.870s  + 0.154s
17.  Kevin Harvick       Childress Chevrolet          20.871s  + 0.155s
18.  Dave Blaney         Baldwin Chevrolet            20.883s  + 0.167s
19.  Dale Earnhardt Jr   Hendrick Chevrolet           20.900s  + 0.184s
20.  David Ragan         Front Row Ford               20.904s  + 0.188s
21.  Tony Stewart        Stewart-Haas Chevrolet       20.912s  + 0.196s
22.  David Reutimann     BK Toyota                    20.912s  + 0.196s
23.  Brad Keselowski     Penske Ford                  20.925s  + 0.209s
24.  AJ Allmendinger     Phoenix Chevrolet            20.944s  + 0.228s
25.  David Stremme       Swan Toyota                  20.961s  + 0.245s
26.  Jimmie Johnson      Hendrick Chevrolet           20.966s  + 0.250s
27.  Josh Wise           Front Row Ford               20.972s  + 0.256s
28.  Carl Edwards        Roush Fenway Ford            20.975s  + 0.259s
29.  Paul Menard         Childress Chevrolet          20.976s  + 0.260s
30.  Danica Patrick      Stewart-Haas Chevrolet       20.979s  + 0.263s
31.  Landon Cassill      Circle Sport Chevrolet       20.982s  + 0.266s
32.  Bobby Labonte       JTG Daugherty Toyota         20.994s  + 0.278s
33.  Greg Biffle         Roush Fenway Ford            21.009s  + 0.293s
34.  Aric Almirola       Petty Ford                   21.036s  + 0.320s
35.  Michael McDowell    Parsons Ford                 21.085s  + 0.369s
36.  Travis Kvapil       BK Toyota                    21.101s  + 0.385s
37.  David Gilliland     Front Row Ford               21.113s  + 0.397s
38.  Mike Bliss          Humphrey Smith Toyota        21.179s  + 0.463s
39.  JJ Yeley            Baldwin Chevrolet            21.336s  + 0.620s
40.  Casey Mears         Germain Ford                 21.360s  + 0.644s
41.  Joe Nemechek        NEMCO-JRR Toyota             21.448s  + 0.732s
42.  Timmy Hill          FAS Lane Ford                21.481s  + 0.765s
43.  Brian Keselowski    Keselowski Toyota            21.818s  + 1.102s