Azores ERC: Kubica loses lead to Kopecky
| | |
| --- | --- |
| | Friday, April 26th 2013, 13:39 GMT |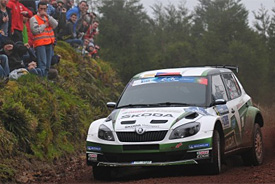 Jan Kopecky stormed into the lead of Rally Azores on the second morning of competition as a puncture and terrible weather resulted in overnight leader Robert Kubica falling to sixth spot.
Ex-Formula 1 driver Kubica had led at the end of the opening day of the fourth European Rally Championship event of the year by nearly 10 seconds.
The Pole increased his advantage to 11.1s by taking his Citroen DS3 RRC to the fastest times on stages five and six.
But he suffered a puncture on SS7, the first of two runs through Feteiras, and allowed Skoda man Kopecky, who was fastest on the stage, to close the gap to 4.9s.
A mix of fog and think mud on SS8, the final stage of the morning loop, resulted in Kubica backing off and conceding more than half a minute to Kopecky.
"It was very difficult stage, we could not see anything in places," Kubica said.
"Eighty per cent of the stage I was just cruising to the finish; I had no confidence in the pace notes. I'm just happy to be here.
"Driving the rally car, you should push, but I think I made the right choice not to push and instead to finish this stage."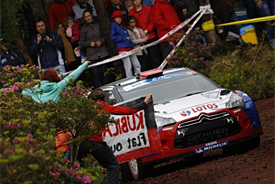 Kopecky now holds a 16.4s lead despite suffering intercom problems on SS7.
Irishman Craig Breen, Kopecky's main rival for the championship, is now second in his Sainteloc Racing Peugeot, despite suffering a puncture of his own on the same stage.
Ricardo Moura, who was passed for third by Breen on the first stage of the day, was promoted back into the spot as a result of Kubica's delay.
Bruno Magalhaes and Bernardo Sousa also moved ahead of Kubica.
Pos Driver             Team/Car               Time/Gap
 1. Jan Kopecky        Skoda                  46m11.5s
 2. Craig Breen        Sainteloc Peugeot       + 16.4s
 3. Ricardo Moura      Skoda                   + 19.0s
 4. Bruno Magalhaes    Delta Peugeot           + 19.3s
 5. Bernardo Sousa     AT Ford                 + 30.1s
 6. Robert Kubica      Citroen                 + 1m04.5s
 7. Jeremi Ancian      Sainteloc Peugeot       + 1m38.6s
 8. Mark Wallenwein    Wallenwein Skoda        + 2m36.6s
 9. Jean Michel Raoux  Sainteloc Peugeot       + 2m57.1s
10. Miguel Barbosa     Mitsubishi              + 4m05.2s