Ferrari identifies cause of Fernando Alonso's DRS fault in Bahrain
| | |
| --- | --- |
| | Wednesday, April 24th 2013, 08:27 GMT |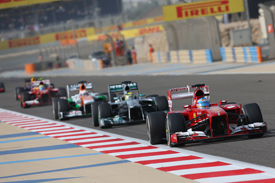 Ferrari says it has identified an unprecedented mechanical failure that caused Fernando Alonso's DRS problem in the Bahrain Grand Prix.
Alonso was running second when his DRS flap jammed open early in the race.
He pitted for the issue to be rectified, but although Ferrari felt it had been fixed, it reoccurred as soon as he tried to deploy DRS again.
Alonso subsequently ran without DRS to the finish, eventually recovering to eighth.
A Ferrari statement said the cause of the failure had now been identified and resolved.
"Analysis revealed that the problem was caused by the breakage of a mechanical component within the system," it said.
"It's the first problem of its kind on this system seen in the three years during which it has been used.
"The failure is not something that causes concern for the long term, however, paying great attention to reliability must always remain at the highest level."
Team boss Stefano Domenicali said the problem was a reminder that while Ferrari had started the 2013 Formula 1 season with a quicker car than for several years, it could not afford to drop the ball on reliability.
"We believe in our ability to be in the fight for the titles right to the end and this time, we have been in that fight since the start, which has not been the case for a while," he said.
"At the same time, we must be aware that in order to achieve our objectives, we have to be perfect in every area."