Long Beach ALMS: Graf defeats Heidfeld in Pickett vs Rebellion dice
| | |
| --- | --- |
| By Scott Mitchell | Sunday, April 21st 2013, 01:51 GMT |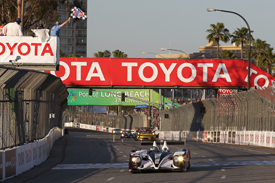 Pickett Racing played the perfect strategy to claim a comfortable American Le Mans Series victory on the streets of Long Beach.
Lucas Luhr took advantage of one of three first-hour cautions to pit from second after just 25 minutes, handing over to Klaus Graf.
A stop-start opening hour was led by Neel Jani for Rebellion Racing but Graf had worked his way up to second by the halfway point.
The duo pitted at the same time under the third caution and the Pickett HPD, requiring less fuel and no driver change courtesy of the early stop, jumped the Rebellion Toyota.
Nick Heidfeld gave chase once racing resumed but Graf made better headway through traffic and by the time the #12 car had made it through, Heidfeld was more than 20s adrift - the gap extending to 36s by the finish.
CORE Autosport was third overall with its LMPC machine, Colin Braun and Jonathan Bennett claiming a dominant class victory.
The final place on the rostrum had been left up grabs for the lower classes when Chris Dyson made a mistake 17 minutes in, hitting the wall while chasing erstwhile leader Jani and stopping on circuit; the Dyson Racing team's race over prematurely.
Luis Diaz and Mike Guasch were second for PR1 in the PC class after a lonely drive, well clear of class polemen Bruno Junqueira and Duncan Ende.
The first three LMPCs were impressively clear of the first LMP2 car of Scott Sharp/Guy Cosmo, which finished sixth overall. Johannes van Overbeek and Ed Brown, the next LMP2, finished eighth.
The LMP2 polesitting Level 5 HPD ran into a series of problems, including a pit penalty.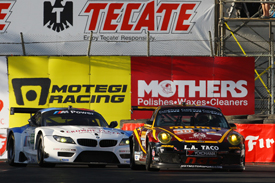 Bill Auberlen took the GT class win for BMW by stealth, recovering from an opening lap mistake by team-mate Maxime Martin before slipping by long-time leader Dominik Farnbacher in the SRT Viper in the final stages.
The RLL BMW was only fifth fastest in qualifying but steadily worked its way to the front and when Farnbacher ran wide with 20 minutes to go Auberlen took full advantage. The Dirk Muller/Joey Hand shared BMW then snatched second from the #91 Viper on the penultimate lap of the race.
The NGT Porsche just held off the attentions of Flying Lizard duo Spencer Pumpelly and Nelson Canache Jr to take GTC honours, Henrique Cisneros and Sean Edwards - in his first race at Long Beach - claiming the class victory.
Results - 80 laps:

Pos  Cl   Drivers                   Team/Car                       Time/Gap
 1.  P1   Graf/Luhr                 Pickett HPD                2h00m23.577s
 2.  P1   Heidfeld/Jani             Rebellion Lola-Toyota         + 36.329s
 3.  PC   Bennett/Braun             CORE FLM                       + 1 laps
 4.  PC   Guasch/Diaz               PR1 MathiasenFLM               + 1 laps
 5.  PC   Junqueira/Ende            RSR FLM                        + 1 laps
 6.  P2   Sharp/Cosmo               Extreme Speed HPD              + 1 laps
 7.  GT   Auberlen/Martin           RLL BMW                        + 2 laps
 8.  P2   Brown/van Overbeek        Extreme Speed HPD              + 2 laps
 9.  GT   Müller/Hand               RLL BMW                        + 2 laps
10.  GT   Goossens/Farnbacher       SRT Viper                      + 2 laps
11.  GT   Gavin/Milner              Corvette                       + 2 laps
12.  GT   Magnussen/Garcia          Corvette                       + 2 laps
13.  GT   Miller/Holzer             Miller Porsche                 + 2 laps
14.  GT   Sweedler/Bell             West/AJR Ferrari               + 3 laps
15.  GT   Bomarito/Wittmer          SRT Viper                      + 3 laps
16.  GT   Beretta/Malucelli         Risi Ferrari                   + 3 laps
17.  PC   Drissi/Mitchell           BAR1 FLM                       + 3 laps
18.  PC   Nunez/Shears              Performance Tech FLM          + 4 laps*
19.  GT   Henzler/Sellers           Falken Porsche                 + 4 laps
20.  GTC  Cisneros/Edwards          NGT Porsche                    + 5 laps
21.  GTC  Canache/Pumpelly          Flying Lizard Porsche          + 5 laps
22.  GTC  Wong/von Moltke/Pumpelly  Flying Lizard Porsche          + 5 laps
23.  GTC  MacNeil/Bleekemolen       Alex Job Porsche               + 5 laps
24.  GTC  Curtis/Stanton            TRG Porsche                    + 5 laps
25.  PC   Marcelli/Cumming          BAR1 FLM                       + 5 laps
26.  GTC  Dempsey/Foster            Dempsey Del Piero Porsche      + 7 laps
27.  GTC  Keating/Faulkner          TRG Porsche                    + 7 laps
28.  P2   Tucker/Briscoe            Level 5 HPD                   + 14 laps
29.  GTC  Hedlund/Heylen            JDX Porsche                   + 18 laps
30.  P2   Tucker/Franchitti         Level 5 HPD                   + 23 laps

* Not running at finish

Retirements:

     P1   Dyson/Smith               Dyson Lola-Mazda                17 laps
     GTC  Calvert-Jones/Ballou      Competition Porsche              6 laps
     GTC  Avenatti/Faieta           Dempsey Del Piero Porsche        5 laps